Protecting a Vessel in the Storm: Boat Stands Made in the USA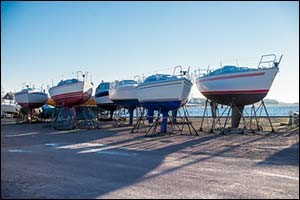 Spring and summer are glorious time for boat owners all up the eastern coast, but it is also the time of year when storms can spring up seemingly out of nowhere. It is important to know how to protect your particular type of vessel in a storm. Hurricanes, gale force winds, even summertime thunderstorms can be damaging if you don't protect your boat. When your boat is in the water and a storm creeps up, sometimes all you can do is pray. However, when your boat is out of the water, it pays to protect it by storing it in a safe place, and by using yacht stands and other boat stands made in the USA, while it is in storage.
The Brownell Boat Stand System has a solid reputation within the marine industry, making foldable sailboat stands, keel stands and benches that are long-lasting, durable and trusted among boat owners around the globe. It is impossible to visit a boat yard and not see at least a handful of boats stored up on our products. It pays to take the time to do a little research to find out which types of boat stands will work best for your vessel. Based upon the length, weight and type of boat, including motor boats, sailboats, and even personal watercraft, you should choose to use foldable sailboat stands or our stacking yacht stands, according to your needs.
Examples of Vessels in Danger
If you are down in Florida, where hurricanes seem to do their absolute worst, there are a few options available for protecting your boat. Anchoring, docking or bringing the boat ashore, are just some of the ways that boat owners try to protect their vessels in a storm. However, if you can't transport your sailboat or motorboat far enough away from the winds of the storm, your chances for damage can be just as high on shore as they are off. They key is to anticipate the weather – as much as one can in this region and during this time of year – to keep your boat safe.
Even boats that are stored on a trailer would do better off of the trailer and on the ground with the bow facing toward to east to prevent the wind from getting underneath the hull and lifting it up and over. Wind and water can both be a factor in damage done to boats, particularly in tropical areas. Understanding the way that the wind direction can affect the potential damage to vessels is important, but if you have the chance to get your boat out of the storm zone, that would be the only guarantee. Narrow docks, low dock pilings and other hazards can damage your boat even in mild storm conditions.
When Your Boat is Ashore
If your boat is already out of the water and is being stored due to repairs or whatever reason, it is important to make sure that your vessel is properly protected with the right type of foldable sailboat stands, keel stands and benches. Of course indoor storage is ideal, however if you are unable to find indoor storage in your area, at least choose a boat yard that is far enough outside of the coastal area, yet still close enough for it to make sense for launching when you are ready to get out on the water.
Before storing your boat for any length of time, make sure to check the following:
the condition of your yacht stands and other boat stands
the condition of the pads on your stands
the area where your boat will be stored, ensuring that it is flat and sturdy
the location of other boats in relation to your boat and how they are stored
the policies of the boat yard and how they provide services to customers
Even if you store your boat properly on top quality boat stands made in the USA that are in perfect condition, with the proper pads and other storage devices, if you are next to another boat that is on cheap stands and is not properly secured, you could incur damage when that boat tips over. It is important to take a walk-through of the boat yard and speak with the staff about how other vessels are stored. Some boat yards have indoor storage options, but you have to ask about them. Other boat yards have strict policies on proper storage and have earned a reputation for providing safe storage as a result. It pays to check around with other boat owners in the area and choose a yard not based on price or convenience, but on quality.
The Brownell Boat Stand System Difference
When it comes to protecting your vessel, it pays to get the best. You can count on the integrity of the top quality foldable sailboat stands, yacht stands, keel stands and benches from Brownell Boat Stands. We have revolutionized the way that boat owners store their boats for over 50 years. More professionals trust the Brownell Boat Stand System than any other storage system that is made. Our system is the fastest, safest and most reliable way to store your boat out of the water. Give us a call at 508-758-3671 to find a dealer near you!