Protecting a Sailboat from Seasonal Storms in a Tropical Location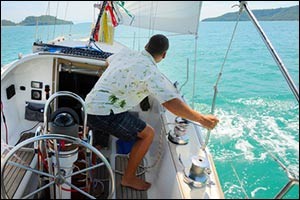 You read a lot about how to protect your boat in the winter months through basic winterizing tips and tips regarding marine industry stands to keep your boat up off the ground and away from the snow and ice, but you don't read a lot about dry storage for a sailboat in tropical locations, such as Florida, the Bahamas, California and Mexico. It is important to ensure that you use quality keel stands and benches to provide the level of support and protection required for your particular sailboat. By using the boat stand selector available through Brownell boat stands and by applying tips and tricks from boat experts in tropical regions, you will be able to keep your boat safe during hurricane season.
What You Need to Know
While it might seem like a simpler proposition to protect your sailboat down in the tropics instead of up in the northeastern states during the winter season, it is important to understand that there are weather conditions that must be considered down south as well. Hurricane season, which seems to become more broad and random every year, requires boat owners to keep their boats out of harm's way while also protecting them from the usual issues that must be considered when dry docking, such as exposure to sun, risks of rust and mold, as well as attacks by pests.
If you are new to tropical boat storage, make sure to speak with a local expert. They can provide you with a list of detailed tips on how to keep your boat from blowing away, such as filling up the water and fuel tanks or the proper methods that should be used for strapping down a boat during a storm.
Other tips, such as the best place for stands to absorb pressure and properly support the hull can be found through locals or online at the Brownell boat stands website. As experts in the field of marine industry stands and proper boat storage, the team at Brownell can help you choose the right amount of keel stands and benches to use for protecting your vessel. Our online boat stand selector is a great tool as well. Visit www.boatstands.com and see our section on Proper Use for even more details on storage for sailboats and motor boats.
The Truth About Hurricanes
One of the facts of life about living in a tropical location is that hurricanes do damage. If your boat gets hit by a major hurricane, you will in all likelihood sustain damage. The severity of that damage can depend on a number of factors. If you are out on the water when a hurricane is due to hit, make sure that you leave the area in enough time to at least get off the boat. Chances are you will not be able to save the boat if it is out on the water, but you will be able to save yourself and your passengers. While it is possible to replace or repair a damaged boat, it is not possible to replace a human life.
The more you can learn about the region – especially if you are new to the area – and the more you can learn about how to properly store your boat during hurricane season, the more likely you will be to protect your vessel. Taking advantage of local resources, as well as tools like the boat stand selector available at Brownell boat stands with regard to choosing the best keel stands and benches for your sailboat, is also highly recommended. It is important to understand that not all marine industry stands are alike. There can be a huge difference in the protective value of Brownell boat stands versus other manufacturers.
Brownell Basics for Sailboat Owners
In addition to providing top quality marine industry stands, Brownell boat stands also provides a lot of valuable advice to boat owners on our website. We have an online user manual for the Brownell boat stand system that can be used with sailboats and other types of boats that feature a keel construction. Choosing the best keel stands and benches, as well as the right size of flat or v-top sailboat stands, for your vessel is key to protecting it during storage, repair or maintenance.
We recommend using six or more stands per vessel, placing the stands at an even distance from each other along the boat. Extra boat stands may be required to keep your vessel safe in heavy winds if the boat still has the rigging on, so it is important to take this into consideration. Take advantage of our large size keel stands or use wooden block support below the front and back of the keel construction to create a stable base for the boat. While cement is best, we do suggest using a small piece of plywood underneath each leg to prevent sinking if the boat is stored on loose ground, such as soil or sand. The boat stand should be turned until it points against the boat's center line.
For more tips from Brownell boat stands or to use our online boat stand selector, visit our website. To speak with one of our friendly and knowledgeable customer service agents about any of our sailboat stands, keel stands and benches, give us a call at 1+508-758-3671. We can help you choose the best quality marine industry stands based upon your unique needs, no matter where in the world you are located.