Proper Transport, Care & Safety of Personal Watercraft (PWC)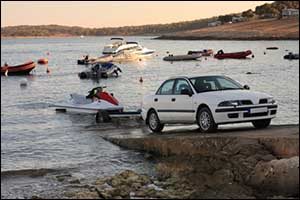 One of the best ways to have fun out on the water, whether you are out enjoying a lake, river or the ocean, is to ride a personal watercraft. Also known as a jet ski, a personal watercraft can seat one or more persons, depending on the make and model, providing an excellent tool for exploring the local waters. Relatively easy to use and much lighter in weight than other types of motorized watercraft, it is still important to learn all you can about the proper transport, care and safety for using a PWC in order to protect your investment.
Everything you need to learn, such as how to choose a boat stand to protect your PWC, how to use adjustable trailer pads to keep your PWC during transport and how a personal watercraft dolly can be used during maintenance at home or in storage, will be included in this article. If you know where to buy boat stands in your local area, you will be able to find all the tools and equipment necessary to take proper care of your PWC.
Responsible Riding Techniques
The lack of a propeller and jet propulsion feature help to provide riders with a smooth and exciting adventure out on the water. However, the unique abilities of this small craft makes it even more essential that you take the time to learn all you can about proper use and procedures. Depending on where you take your PWC, there will also be local rules. Make sure to check out the rules and responsibilities every time you take your personal watercraft out for a ride, just to make sure you don't violate anything by accident. Most rules are simply about consideration toward other people out on the water and to native marine wildlife.
Most modern PWCs are much quieter than the personal watercraft of your childhood. Dubbed the "next generation" by industry insiders, today's PWCs have four-stroke motors, more comfortable seating and decks that are a lot more stable than they ever used to be. As a result, there is even more that you can do with this advanced piece of technology.
The first thing you will notice is that most PWCs do not have any brakes. You stop by using the thrust from the throttle while you turn away from whatever it is that you are getting close to, such as a dock, a boat or something else in the water. It is important to practice the technique necessary to stop, as it is not a natural movement. It will only take you a few minutes to learn it, but over time it will get easy to have total control over your PWC. Always wear safety gear and require any passengers or other riders to do the same. Have a lifejacket and eye protection at the very minimum. Additional safety gear can be purchased locally if you know where to buy boat stands and adjustable trailer pads in the area.
Trailering Your PWC
Unless you live right out on the lake or store your PWC near the body of water that you frequent, chances are good that you will need to transport your small craft at some point. You need to take your time and choose a trailer that is specifically designed for the make and model of your PWC, just as you would take the time to choose a boat stand that provides the proper support for your vessel. Adjustable trailer pads and other cushioning can be used to protect your personal watercraft, which can be purchased where to buy boat stands. A personal watercraft dolly can also be used for storage in a garage or for moving around during maintenance or cleaning.
Other things to consider when looking at PWC trailers include:
how many PWCs you will want to transport at once
the make, model, and horsepower of the towing vehicle
whether you want an open or enclosed trailer
if you want to also trailer your boat at the same time
most PWCs will require two people to lift safely
Trust the Brownell Boat Stand System
If you know where to buy boat stands locally, you have likely seen the components available in the Brownell Boat Stand System. Designed to work with motor boats and sailboats, it is important to choose a boat stand that will support and protect your vessel when it is out of the water. Brownell also makes a wide range of adjustable trailer pads, personal watercraft dolly equipment, engine handling equipment, and shrink wrap accessories to help you protect all kinds of watercraft. Give us a call at 508-758-3671 to find an authorized dealer near you to see our full line-up of top quality Brownell Boat Stand System products.