Professional Grade Equipment and Boat Stands Made in the USA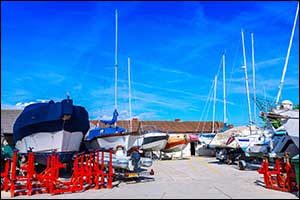 While we talk a lot about how well our stackable boat stands and keel support perform for boat owners, the truth is that Brownell products are designed for use by professionals. They are used across boatyards and other marine industry businesses around the globe because they ensure quality support, stability, and storage when used properly for just about any type of vessel. We offer a variety of keel support, pads and boat stands made in the USA that our customers can count on to provide dependable and reliable service. We also have a wide range of boat racks and engine racks for marine engines, trailer components, and other tools that can be used to your advantage. If you run a professional marine business, whether you do boat and engine repair, perform maintenance services, or offer storage solutions, you can count on Brownell engine racks, boat stands, staging ladders and dollies to get the job done.
The Skinny on Our Boat Stands
Since 1954, the Brownell name has been synonymous with quality and reliability. Our company has earned a solid reputation for our innovations and our top notch customer service. We take a lot of pride in the quality of the products that we create, which is why all of our products and components are created right here in the USA by our team of skilled American craftsmen. Known by professionals all over the world for being the best products in the industry, we ensure our reputation by using the most durable steel available. Compared to other types of steel, which are often used in the marine industry, American tubular steel is by far the best.
Brownell actually invented the boat stand, and all of the products that we design and manufacture are made with the goal of making boat handling more effective and efficient. Some of the features that we include in our many products that have helped us to maintain our trusted relationship with marine industry professionals include our lifetime warranty, use of solid steel, ACME threaded adjustable rods, and superior welded construction. Our boat stands were created with stacking and nesting features to allow for more compact storage when not in use and our use of hot-dip galvanized and dipped paint provides extra protection from corrosion and abrasion damage.
Other Marine Products
While our boat stands are the most talked about product that we manufacture, we also have a full line of other marine products that are just as valuable. Our keel support options continue to grow and expand, offering easy-to-use adjustable keel stands and benches, along with wooden and galvanized steel keel blocks, depending on your needs. Independently tested and certified to guarantee results, you can trust Brownell stackable boat stands and keel support for motorboats, sailboats, and other marine vessels. Our boat dollies, staging ladders, and Brownell engine racks are similar to our boat stands made in the USA in that they all use American steel and quality construction methods to assure consistency and dependability.
Our boat lifting systems, engine handling products, and trailer components are all part of our expanding line, which can be used to make your job a lot more efficient. Whether you are moving and storing boats at a local marina or boatyard, providing maintenance and repair services for customers, or just working to protect your personal vessel in the off-season, you can count on Brownell to help you get the job done right. Check out our parts and accessories, engine racks for marine engines, and wide array of sizes and types of stackable boat stands and keel support. We can help you create a comprehensive Boat Stand System to protect any type of boat while it is out of the water.
Where to Buy Brownell Boat Stands and Products
If you are interested in learning more about our quality products and boat stands made in the USA, make sure to visit our website for assistance. Boat Owners can use our helpful guide that allows you to pick the best boat stands and keel support for your vessel or shop for individual parts based on your needs. Visit the Boat Owners Page to take advantage of this special guide, whether you are searching for trailer components, Brownell engine racks, TLC boat pads or wish to purchase an entire boat stand system. Our Marine Industry customers can purchase Brownell products through their favorite distributors or directly through our Massachusetts facility. Looking for an authorized dealer near you? Just give us a call at 508-758-3671, and we will provide you with all of the information, assistance, and support that you need.