Prepare Your Boat for Transportation: Quality Stands & Pads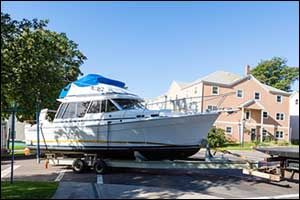 Transporting your boat from one location to another requires attention to detail and knowledge of what is required to safely move the vessel from point A to point B. A combination of equipment is often used, including marine industry stands, trailer components and adjustable trailer pads, such as Brownell high quality TLC boat pads, to protect the hull. Whether you are transporting the boat yourself or hiring a team of professionals from a boat transport company to do it for you, you will need to know how to properly prepare your boat for transport. Most transport companies will not prepare boats for transport. The responsibility for prep work lies with the boat owner.
If you don't have any idea what is required to prepare your boat for transport, whether you are a new boat owner or if this particular boat is new to you, you can work with boat transportation agents to locate a full service provider near you, such as a boatyard, marina or marine surveyor, that can help you to get everything taken care of properly. Boats stored at boatyards on marine industry stands or other types of equipment, can be more easily prepared and loaded on to transport trailers. Some boatyards will take care of preparation work for you, however most will not. It is important for boat owners to have an understanding of trailer components and the proper use of adjustable trailer pads, whether they will be transporting the boat themselves or not.
Transporting Larger Vessels
If you have a boat that is larger than you could haul yourself on a trailer – even using high quality TLC boat pads for protection – you will need to hire a boat transportation company to do it for you. The company and its drivers will need to coordinate moving efforts between the boatyards, marinas, ports and other storage areas. They need to be properly licensed with the Department of Transportation (DOT) and have all the proper permits for transportation. Due to liabilities, drivers may decline to move a vessel if they believe it to be unsafe to do so. Seek out licensed, experienced and reputable drivers and boat transportation companies that can be trusted to transport your boat locally or out-of-state.
Key points to remember when transporting larger vessels include:
proper distribution of weight on the boat and the trailer axles
ensure that the boat is properly secured to the trailer
use high quality TLC boat pads and adjustable trailer pads for extra protection
utilize any trailer components and extra security measures
make sure driver uses the required escorts and high poles, according to state law
ensure that your boat is properly balanced, stabilized and secured
The more that you can do to ensure that your boat is ready to load when the truck driver arrives, the easier the entire transaction will be for everyone involved. Experts recommend that boats 30 feet and larger should be inspected by a licensed marine surveyor at the boatyard. If you do not properly prepare your vessel, the transporters will not be held responsible for damage caused by defective chains, trailers, trailer components, adjustable trailer pads, marine industry stands, as well as anything else used to secure the vessel. If anything shakes loose, comes off, falls or breaks due to improper preparation, the transportation company will not be held responsible.
Proper Measurement is Key
It is important for you to get the full length measurement of your vessel when you contact a transportation company to transport your boat. You must include everything, including the outboard motors, brackets, any swim platforms, bow pulpits and other items that may extend the length. You will also need to have the exact height of your vessel, including anything that might extend the height. It is important to note that the maximum height of most overpasses that your boat will likely pass under is 13 feet, 6 inches. If your boat has an overall height that is greater than this maximum, it will require special handling and transportation.
Trust Brownell Marine Industry Stands and Pads
When it comes to dry docking, storing or transporting your vessel, you can count on the high quality TLC boat pads and marine industry stands available from Brownell. Trailer components, dollies, keel stands and engine racks, can all be purchased as part of the overall Brownell Boat Stand System. Give us a call at 508-758-3671 to find an authorized dealer near you or visit our website to learn more about all of the products that we sell.