Preparation and Education: Hurricane Safety for Boat Owners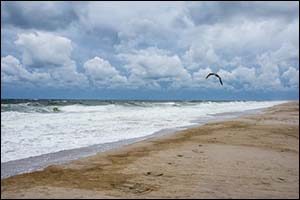 You might think that as long as you don't live in Florida, you don't have to worry about hurricane safety. The truth is that if you are anywhere near the coast, a hurricane could cause potential damage to your vessel in one way or another. Your best bet is to know the risk in your area and be prepared. All it takes is a little preparation and education, and you and your vessel will come through this year's hurricane season unscathed. Just like using boat stands for sailboats or boat lifting systems for the first time, the more you know, the better. You may even need help choosing top quality boat stands and adjustable trailer pads, especially if you are new to boat ownership.
What You Need to Know
The first thing you need to know is that hurricane season in the United States runs from June 1st all the way through November 30th. It's almost as long as NASCAR season. Unfortunately, that is also the ideal boating season for many boat owners, especially on the east coast. There are no guarantees if you live or store your boat in the path of the storm, but the more that you can do ahead of time, the better your chances will be. Don't just count on luck to get you through. Make sure you do all you can to protect your vessel and keep yourself safe during hurricane season.
Start by making a list of all the things that you will need to do when you become aware of a tropical storm or hurricane making its way to your area. Having a checklist of things that need to be taken care of will help you avoid forgetting something important. You will need to include a list and contact information for people who you need to reach, including your boating insurance agent and the local marina, as well as things that you will want to take off your boat during a storm. Keep the list in a safe place so you can grab it when you need it. Consider keeping a back-up copy on your smartphone or use a list app.
Ideally taking your boat out of the water and away from the area, using quality boat lifting systems and placing it on top of adjustable trailer pads for trailering and top quality boat stands in a storage area at a safe distance from shore, would be the way to go. Boat stands for sailboats, motor boats and personal watercraft can protect your boat from a number of things, but you need to do even more to protect your vessel in a storm.
Get Preventive Measures from Your Insurance Company
Well before you are faced with a tropical storm or hurricane in your midst, contact your boat insurance company and speak with an agent about what your provider expects from you during a storm. Many providers will require that you provide a "storm plan" to them on how and where your boat will be stored during a hurricane. They want to protect their investment in your vessel too and avoid any unnecessary claims due to neglect or ignorance. Check to see that your policy is current and in-force, making sure what you would need to do to file a claim in the event that something goes wrong.
If you are not in the area where your boat is docked during hurricane season, hire someone to be responsible to execute the required "storm plan" without you. Many marinas and other boat storage areas have staff that can assist with these responsibilities if you are out of the area or unable to get to the area to protect your vessel. Even boats stored on boat stands for sailboats or motorboats, stored on trailers with adjustable trailer pads, or that don't have access to boat lifting systems to be removed quickly from the water, should have a plan of action. Make sure that you clarify your responsibilities and expectations from your insurance company and from the marina or place where your boat is stored.
The Brownell Boat Stand System
No matter what type of boat you have, how or where you store it, you can trust the top quality boat stands, pads and adjustable trailer pads available from Brownell. We also have a wide range of storage options, boat lifting systems and other products that can be used in conjunction with boat stands for sailboats, motor boats and personal watercraft. Give us a call at 508-758-3671 to find an authorized dealer near you.