Prep Your Boat for Spring: Staging Ladders, Poppets and Rods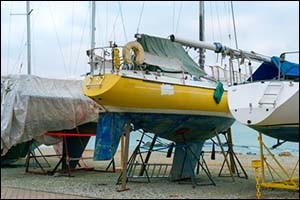 So you've finally made it through the long, hard winter and you are starting to think about getting your boat ready for spring. Just thinking about getting out on the water is enough to get your heart pumping and melt away an entire winter's worth of snow and ice. We read a lot of articles and tips about how to winterize your boat, from putting it up on boat stands for storage, checking out the engine and making sure that it stays out of direct sunlight and exposure to winter weather – there's a lot of work to be done.
Having the right tools for the job is important. Choosing the Brownell Boat Stand System, with its strong and durable solid steel ACME threaded center rod and sturdy, stackable stands, can help. From boat poppets to staging ladders, Brownell has just about everything you need to take care of your boat when it is out of the water. We also sell jack stand replacement parts, replacement pads and a wide variety of other important items that you can use to take care of your boat for spring.
STEP ONE – REGISTRATION
Is your boat's registration up to date? Some states require annual renewals, while other offer longer registration terms. Your best bet is to check on the registration before the ice even begins to thaw so you'll know whether or not you need to take care of this before you get out on the water.
STEP TWO – INSURANCE
Do you have the right type of marine coverage for your vessel? Check in with your local insurance agent to make sure that everything is in order. You should do this for your car and home as well, at least once a year.
STEP THREE – SAFETY
Take a look at all of your safety equipment, such as fire extinguishers and life jackets, to make sure that they haven't expired and don't need to be replaced. Check your first-aid kit and other on-board safety equipment just to make sure that everything is in order.
STEP FOUR – PLUG
Believe it or not, one of the most commonly lost items on a boat is the drain plug. Make sure you locate it and put it where it belongs.
STEP FIVE – ROPES
Take a good look at all of your ropes and lines, including your anchor ropes and tow ropes. Make sure that they haven't become too brittle to handle and that they are in good condition to last throughout the season.
STEP SIX – TRAILER
Check the brakes, the turn signals, the running lights and the overall condition of your trailer before you load your boat up to take it down to the dock or the marina. Check the tires and make sure that they are all properly inflated – including the spare – to the proper pressure. You don't want to get down the road and have a flat or get pulled over for not having properly working turn signals.
STEP SEVEN – ENGINE
Check to see that it runs before you do anything else. Try using a universal motor flush tool so you can make sure tha the engine will actually start once its in the water. Also check the engine and any other mechanical parts for problems with the equipment. Belts, hoses and other items should all be checked for wear and tear, cracks or breaks. Replace anything that you don't think will last throughout the entire season just to be safe.
STEP EIGHT – ELECTRICAL
Before you get to the boat ramp, test and turn on absolutely everything to make sure that it is in proper working order. If you see corrosion around the terminals for the battery, just clean it off with a wire brush. That is quite common and is something you will even see on your own car's battery.
STEP NINE – HULL
While your boat is still up on staging ladders and boat poppets or whatnot, make sure to take a good look at the hull. Check for any gouges, scratches or things that can buffed out. If there are any cracks or other serious damage, make sure you get those things fixed right away. Don't take a chance on anything that you think might need repairs.
STEP TEN – FLUIDS
Make sure to check your oil levels and top it off if it needs it. You should change the oil if it looks dirty and replace oil and gas filters if you didn't do it already when you winterized your boat. The gas filter should be changed for every 100 hours of use. That's a good rule of thumb to remember and should underscore the importance of changing that filter out regularly.
Trust the Brownell Boat Stand System
Whenever you need to store, repair, repaint or maintain your vessel in any way, you can trust on the fine products from Brownell. From boat poppets to staging ladders, our patented stackable boat stands with the solid steel ACME threaded center rod to our jack stand replacement parts and accessories, the complete Brownell Boat Stand System has been trusted by boaters all over the world for over 50 years. Give us a call at 508-758-3671 to learn more about our products or to find a local dealer near you.