Planning to Prepare Your Boat for Spring: Brownell Boat Stands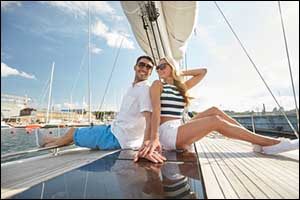 It's already been a long harsh winter, no wonder you are itching to get back out on the water and enjoy the warm seasonal weather. While it's not quite time to get your vessel out of storage, you can start making plans now to have everything ready and in order to prepare your boat for boating season. The more plans you make today, the faster the process will be, and the sooner you will get out on the water. If you want to make the most out of this year's boating season, the time to get started is NOW!
Make a Checklist of Chores
Hopefully you took the time to purchase top quality boat stands to care for your vessel while it was out of the water, removed all of your personal belongings, safety gear, and electronics, winterized what was left, and placed it in a safe storage facility. Whether your boat is stored indoors or outdoors, it is important to complete a proper winterizing regimen.
Brownell Boat Stands provide a range of sizes, styles, and features to provide you with everything from proper keel support to options that help you care for outboard motors and much more. To find out where to buy boat stands and other Brownell equipment in your area, visit our website or call our main office in Mattapoisett, Massachusetts.
Your checklist of springtime chores should include:
annual inspection
tune-up
cleaning
safety check of all safety equipment and electronics
Prepare Yourself for Boating Season
It doesn't matter if you have been boating all your life or if you just purchased a boat recently, it pays to take a boat safety course and obtain your boating certificate during the pre-season months. Check local and state laws, as well as licensing laws where you will be transporting and using your boat throughout the season. You might be surprised to see what is the same and what is different between the different states. If you will be boating in Canada or Mexico, make sure to also check international laws regarding transportation, safety and licensing before you head out on a trip to avoid any confusion or problems.
Take time in the off-season to re-familiarize yourself with the owner's manual and all of the recommendations by the manufacturer for annual maintenance. Go over all of the features, components, and safety recommendations for your particular vessel. Use the internet to find YouTube videos and other guides that will help you to get the most out of the boating season and maximize the use potential of your boat. Use this time to your advantage to make sure that you are ready to hit the ground running, so to speak, as soon as the weather turns and you are able to get back out on the water.
Pre-Launch Checklist for Safety
Once you have had your inspection and got any repairs done by an American Boat & Yacht Council (ABYC) certified technician, all you need to do is wait for good weather. When that day arrives make sure to hold yourself back a little and perform your own pre-launch checklist for safety. Remember, just like picking out the best keel support and other top quality boat stands, the more attention to detail that you can give to pre-launch safety, the better experience you will have overall.
safety equipment inspection – flares, personal flotation devices, first-aid kits, fire extinguishers, and other equipment
lighting – check to make sure all the lights are working properly
electrical – inspect for loose or corroded electrical conductors
battery – make sure the battery is properly charged and installed
bilge – ensure that there isn't any excess water inside the engine compartment
fuel tank and filters – check for leaks, ventilation and water
oil – change and check oil levels before starting the boat
Follow all safe launching practices, check temperature gauges, cooling systems and make sure that all of your passengers are knowledgeable about safety procedures and practices. Before you bring your vessel to the water, make sure to inspect your trailer as well. You can purchase trailer equipment, pads and other quality devices from Brownell Boat Stands as well. To find out where to buy boat stands, lifting devices, and adjustable trailer pads, just visit the Brownell website to get information on local authorized dealers near you. Contact our customer service department directly by calling 508-758-3671.