Now Is the Best Time to Learn How to Winterize a Boat Motor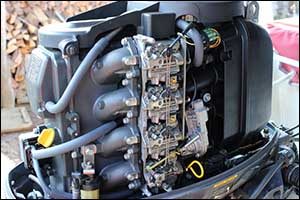 Spring has returned to the Northern Hemisphere and summer is already on its way. With temperatures getting warmer and prime boating season in sight, probably the last thing you want to think about is winterizing. However, this is the best time to learn how to winterize a boat motor on your own if you have never done it by yourself. You now have the luxury of time to read up on all the latest tips, tricks, and advice from the pros so you can save time and money when it comes time to put your boat away at the end of the season.
The Brownell Boat Stand System is more than just top quality motor boat stands. We also design, manufacture, and sell a wide range of tools that you can use to improve your experience. We sell our products to individual boat owners, providing reliable, durable American boat stands, keel support, and trailer components. However, we also sell engine handling products and other equipment that you can use to make transporting, winterizing, repairing, and maintaining your boat a lot easier.
Brownell Engine Handling Products
Our line of engine handling products is designed to be used in a couple of ways. Our smaller products are great for use with single engines, providing an excellent means for learning how to winterize a boat motor in your home garage or another storage unit. Our larger systems can handle multiple engines and drives to maximize shop efficiency for marine professionals. Used by repair shops, storage facilities, maintenance service providers, and other pros, the heavy-duty all-American steel construction and traditional painted blue finish provide long-lasting strength and durability when it counts the most.
Caster locks allow for safe storage of engines during the maintenance and winterizing process, and all of our products feature ergonomic handles and a combination of swivel and stationary casters to ensure ease of movement around the garage or shop. Some of our engine handling products are even used in showrooms, as they provide a very safe and secure handling solution for engines and drives. Even our largest systems provide a small and easy-to-maneuver method with a very small footprint, making it ideal for storage when not in use at busy workshops, showrooms, and garages. Made in the USA by skilled American craftsmen, you can count on Brownell products to perform.
Why Winterize Your Own Boat Motor?
Deciding to learn how to winterize a boat motor is a lot like choosing to perform oil changes and other essential services on your vehicle. Sure, you could pay someone to do it, but there are clear benefits to learning how to do it on your own. Studies show that boat owners who choose to invest in motor boat stands and keel support, such as the products in the Brownell Boat Stand System, that also winterize and store their own boat engine can save $150 or more annually. While the initial investment into the tools, equipment, and products required will set you back more than the annual fee, the return on your investment becomes clear in just a couple of seasons.
Skipping winterizing services and other required maintenance can cost you thousands of dollars in repairs or to replace your engine. Consider purchasing a factory service manual from your boat manufacturer to help you locate all of the essential drain ports, cooling units, and plugs when you learn how to winterize a boat motor. Invest in top quality American boat stands that will last for many years. Brownell motor boat stands are stackable, which means they take up less space when you store them between uses, providing you with more room for your boat trailer, tools, and other accessories. Read all you can about winterizing your boat motor and take the time to do it right. You might even be able to take a class at a local marine supply store or watch videos online to provide you with a visual example.
Create a Boat Winterizing Kit
Once you study everything that needs to be done to winterize your boat motor and vessel, start building your boat winterizing kit. Do this well in advance of the end-of-season time frame so you will be prepared. Products such as antifreeze, fogging oil, motor oil, oil filters, drain plug gaskets, pumps, and lube can be purchased ahead of time. Tools that will be necessary for winterizing, including screwdrivers, wrenches, and socket sets, along with Brownell Boat Stand System motor boat stands and keep support should be purchased as soon as possible. All of the services that must be performed, from changing the oil and cleaning the carburetor to draining the coolant and lubing the lower unit should be done in the proper order.
For more boat maintenance tips and advice regarding how to winterize a boat motor, browse our blog or search online for motor boat winterizing guides that can help you get started. Smart owners continue to invest in the ongoing maintenance, repairs, and storage needs of their boat so they can maximize the number of years that they will be able to get out of that vessel. The Brownell Boat Stand System is designed to help you achieve your goals for repairs, maintenance, painting, storage, and services. Give us a call at 508-758-3671 to place your order or to find an authorized dealer near you.