Motorboat Stands: What's the Right Size Engine for Your Boat?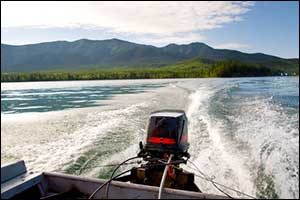 While we talk a lot about choosing the best motorboat stands or galvanized boat stands with the Brownell Boat Stand Selector, there are lots of other options that boat owners need to consider. When it comes to picking the right size engine for your boat, there are some facts that can be useful in making the best decision. When you finally select the best option for your motorboat, check with Brownell. We also sell top quality engine racks for marine engines that can be used for maintenance, servicing, cleaning, and storage. Visit our website or give us a call to find an authorized dealer near you.
Bigger is NOT Always Better
While Tim-the-Toolman from ABC's "Home Improvement" might disagree, the truth is that when it comes to boats, the biggest engine is not always the best choice. This is true whether you purchase a new boat or a used boat and decide to buy your own motor. Of course, the powerboat manufacturers want everyone to believe that the highest horsepower engine is the best, that isn't always the case. Before you start shopping around for motors, make sure to think about how and where you will be using the boat. Motor needs for a small lake vessel won't be as great as the motor needs for ocean-going boats.
Another thing to consider is the safety-rating of your boat. If you don't have the owner's manual, you can usually look it up online based on the make, model, and year of your vessel. You will want to ensure that the motor complies with the safety ratings assigned to your particular boat. And finally, while the biggest isn't always the best, it is a good idea to go "big" within the spectrum that is recommended for your boat. Buy the largest engine that you can afford that works within the specific criteria from the manufacturer and based on your individual needs. You want as much power as possible, but you want the boat to be safe.
Different Types of Boats
When you look at the options for galvanized boat stands and other motorboat stands on the Brownell Boat Stand Selector, you will see that the range of required equipment really varies. The same holds true for engines used on motorboats. The needs of a 17-foot boat for weekend fishing trips will be much different than the same 17-foot boat that is used for carrying a family with food, water skis, and a water tube. The amount of passengers, equipment, accessories, and the ultimate use of the boat really matters. You might have more power than you need with a 70 HP engine for the weekend fishing trips, but would be sorely lacking for pulling around a loaded water tube.
Industry experts recommend that you go with the minimum horsepower (HP) engine required to get the job done that you want to be accomplished. Not only will this make your vessel a lot safer, but it will also reduce the amount of money spent on the motor purchase and the ongoing expense of gas for operations. However, be warned. The smaller HP engine won't always save the most on gas. If you purchase an engine that is too small for your boat and the purpose that it is used for, you might actually burn more gas and cause the engine to work harder, reducing its value and longevity.
Long-Lasting, Top Quality Equipment
You can trust the Brownell name for everything from galvanized boat stands to engine racks for marine engines. We also sell top quality boat dollies, boat stand and trailer pads, staging ladders, and a variety of other essential tools. Our Boat Stand Selector can help you to make smart choices. Not just about the type of motorboat stands and keel support required for your vessel, but also the number of stands required to provide proper balance and protection.
Located in Mattapoisett, Massachusetts, Brownell Boat Stands invented the modern stands used today by marine professionals and individuals all over the globe. You can use our online Boat Stand selector to find the best motorboat stands for your vessel or you can give us a call at 508-758-3671 to find an authorized dealer near you.