Motorboat Stands & More: Why You Should Winterize Your Boat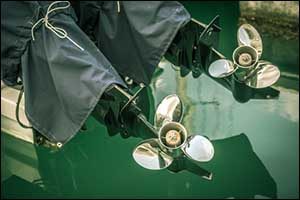 Over the years you have invested a lot of time and money into your boat, so why wouldn't you do everything you could to protect it? As the boating season comes to a close, it is time to start thinking about protecting your boat from the elements. Whether you store your boat indoors in a garage or indoor storage yard, or if you store it outdoors, there are certain things that need to be done that will affect your boat's performance the next time you take it out on the water. Not only will winterizing help save you time and money when the weather warms up again, but it will also protect your boat from damage that is commonly seen in unprotected vessels.
It is also important for boat owners to realize that their marine insurance policy may not cover weather-related damage that is due to their own neglect or lack of maintenance. You should go over your current policy with your marine insurance agent to determine what is required. Proper use of equipment, including all marine industry stands, boat dollies and the use of safety chain for boat stands, should be adhered to not just to protect your vessel, but also to ensure that you are meeting your own responsibilities as a boat owner.
Getting Your Boat Out of the Water
Regardless of the size of your vessel, the best place for your boat in the winter is out of the water. Ideally, a temperature-controlled boat storage area is best, but if you don't have the funds or one is not available in your area, there are other things that you can do. Many boat owners go the shrink-wrap route, which protects your boat from UV rays, bugs, birds and all sorts of seasonal things. It even protects it from the elements to a large degree. Otherwise, if indoor boat storage or shrink-wrapping are not options available to you for any reason, you should at least make sure your boat is out of the water, up on quality Brownell motorboat stands, and covered with a sturdy tarp or boat cover.
Start the winterizing process by sitting down to make a checklist of all the things you will need to do in order to properly winterize your vessel. Make a list of all the equipment you will require, from boat dollies to motorboat stands, safety chain for boat stands, cleaning fluids, covers or tarps, as well as other maintenance tools and products. You can find a lot of this by looking at the owner's manual to find the recommendations made by the manufacturer. If you are a new boat owner, you may want to get the expert advice of a seasoned boat owner or consider hiring someone to help you the first time around.
The Consequences of NOT Winterizing Your Boat
While most boat owners know that they need to winterize their boats, many do not understand the consequences that could come from choosing to NOT winterize. There are many different components of your boat that could be negatively impacted if they are not properly cared for before your boat is put up on marine industry stands or boat dollies for the winter.
FUEL – Perhaps the most important thing that needs to be done is to protect the fuel tank. Stabilization for boats stored for months without being used should be a major priority for any boat owner. The E-10 fuel that is used by most boats today will absorb any condensation that forms on the inside surfaces of the fuel tank when the temperatures begin to fluctuate. If a stabilizer is not added to the fuel, an ethanol-and-water combination could form, which would eat away at the aluminum tank or strip the anodizing right off the sides of the tank. By the time spring rolls around, the fuel injection system or carburetors could be filled with a white sludge, created by an accumulation of aluminum oxide particles in the fuel. Any gasoline still inside the engine could experience the same effect, damaging the internal parts of the fuel system.
COOLING – Your boat's cooling system should be effectively flushed out before going into storage. If there is any build-up of salt, sand or mud, moisture could cause galvanic corrosion inside the aluminum cylinder block. Pitted areas inside the block can form that would eventually form pinholes, allowing water to spray over the powerhead, causing major damage to the vessel. When you have your boat out of the water on motorboat stands or boat dollies, make sure to get the cooling system properly flushed before just leaving the boat on marine industry stands, getting it shrink-wrapped or placing it inside of other storage solutions.
BATTERIES – If you do not remove the battery from your boat it will begin to discharge around 20 degrees. Even mild cold weather temperatures can cause the battery tu run down, which can distort the cell plates, break the internal connections and even crack the case for the battery, allowing acid to leak out when the weather warms up. You could have a big, expensive mess on your hands if you don't disconnect and remove the battery from your vessel.
Trust the Brownell Boat Stand System
If you are looking into purchasing equipment for storing your boat, consider the Brownell Boat Stand System, which include a wide variety of motorboat stands, boat dollies, quality pads, safety chain for boat stands, and specialized marine industry stands. Give us a call at 508-758-3671 to find an authorized dealer in your area, or use our online Boat Stand Selector to choose the best equipment for protecting and storing your vessel.