Motor Boat Stands: Well-Known Pros & Cons of Boat Ownership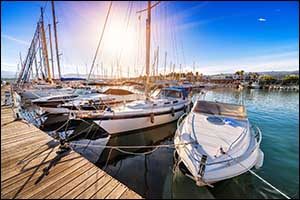 Owning a boat is kind of like owning a car – if you can't afford to take care of it, safely store it, insure it, and use it on a regular basis, then you probably shouldn't own it. There are a lot of jokes in the marine industry regarding the cost of boat ownership, but the truth is that for those who love nothing more than to be out on the water, the pros outweigh the cons. Before purchasing a boat of any type, make sure to do some research. Understanding everything that goes into owning a boat will help you to avoid any financial pitfalls. Boats need to be stored properly when not in use, either at a local boatyard, marina, or indoor storage facility. Selecting a comprehensive insurance plan is essential to protect your investment, but it is also crucial to choose a boat stand system that will keep your boat supported and stable while out of the water.
There are many different types of motor boat stands available on the market today. However, only one brand name symbolizes quality, durability, and features independently certified boat stands that will provide you with a lifetime warranty and the best possible results. The Brownell Boat Stand System is known and used worldwide by individual boat owners and marine professionals because it is the best quality equipment available in the industry. Made in the USA by experienced and skilled American craftsmen, Brownell's success lies in the high standards enforced for everything from the materials used to the techniques applied during manufacturing.
Where Should You Store Your Boat?
Figuring out the best place to store your future boat can sometimes be a challenge. Should you store it locally near your home so you can check on it during the off-season and make sure your winterization process is protecting your boat? Or, should you consider storing it near the water at the boatyard or marina where you launch your boat each year? If you don't live in an area where there is a lot of boat storage opportunities or if the area near where you will launch your boat doesn't have any openings for new customers, you might have to find something in the middle. Just make sure that you choose a boat storage facility that meets all of your needs and standards for quality off-season protection.
Some boat owners prefer a boatyard that will allow them to make repairs to their vessel so it will be ready for use again in the spring. However, some properties just don't have the space or environmental protection opportunities available to allow that type of work to be done on-site. A lot of your winterization and cleaning work can be done before you bring your boat to storage, so if you find a prime location that doesn't allow on-site work, considering taking care of everything somewhere else. This can help when choosing the type and size of boat that you want to buy, especially when it comes to maintenance, repairs, and storage.
How Should You Store Your Boat?
There are pros and cons to indoor and outdoor storage opportunities. While an indoor facility offers more protection from snow, rain, hail, wind, and other damaging weather, it will cost you a lot more and may be harder to find in your area. An outdoor facility can be more affordable, and you can always protect your boat from the elements with a custom boat cover or shrink wrapping options. As long as you winterize your boat according to the manufacturer's recommendations and make sure that your boat is stored in a safe facility at a reputable boatyard or marina, your boat should be adequately protected indoors or outdoors.
The Brownell Boat Stand System offers boat owners the opportunity to afford quality, independently certified boat stands that will provide strength, stability, and security to boat stored indoors and outdoors. Choose a boat stand based on the type and size of vessel that you own, as well as other qualities that must be considered for proper protection. We have an easy-to-use boat stand selector tool on the website that will help you find the best sailboat or motor boat stands, based on your new boat's specifications. We will also help you with keel support information, as well as the number of stands required for best results.
Other Things to Consider for Boat Ownership
Remember to check out things like licensing, insurance, trailer transportation options, fuel, and any other essential accessories that you will need to safely use your boat. Safety gear, such as life vests, GPS devices, and other options will help you to maximize your experience out on the water and keep all of your passengers safe. If you would like to learn more about the Brownell Boat Stand System, give us a call at 508-758-3671 or browse our website to look at products, specials, and information about proper use of our independently certified boat stands and equipment.