Motor Boat Stands & Safety: Summer Survival Tips for the Water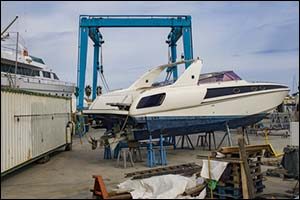 It doesn't matter how many times you have taken your motor boat out on the water, it is always a brand new experience. You should never ease up on things like safety, neither for you nor for your boat. The same amount of care that you put into protecting your boat with motor boat stands and Brownell engine racks for marine engines when it is out of the water, should be put in to providing a safe and sane experience for you and your passengers when you are out on the water. Whether you have kids and a family out with you or if it's just you and some friends hitting the lake or fishing in the bay, follow these simple boating tips and keep safe boating practices at all times to minimize your chances of having an accident.
Motor Boat Safety Checklist
Before you get your boat out on the water or start-up that engine, it pays to take some time to go over a simple checklist. Basic things, such as checking the fuel levels and adding fuel whenever necessary, as well as letting someone know where you are going and when you expect to return, are so important to successful boating. You should also take a good look at your engine. Hopefully you have maintained it seasonally and as-needed, placing it on Brownell engine racks and knowing where to buy boat stands that will protect your investment.
When you look at your motor boat engine, make sure to:
check for any leakage of fluids, such as oil, coolant or fuel in the bilge
look to see if there is any excess water in the bilge area as well
check the fuel levels and fill it back up safely if the levels are low
inspect the fuel system on outboard engines for leaks or gas odors
You should also check to make sure that all of your lights are functioning and make sure that there aren't any loose electrical wires or conductors that are corroded or disconnected. Always test out your radio and communication devices to make sure that they are in good working condition and run your blowers to remove any vapors or fumes from the bilge before you even start your engine. A good habit to get into is to connect your vehicle and boat keys to a floating bobber in case they go overboard. Check out the local reports for weather, as well as any sea, boating or fishing forecasts just in case. Go over your emergency plan with your passengers and show them where your personal flotation devices and fire extinguishers are located.
What You Need to Bring
In addition to checking out your engine to make sure that everything is in good working order, there other things that you need to bring whenever you go out on the water. Just like making sure that you have the proper size, type and amount of motor boat stands and engine racks for marine engines when you have your boat out of the water, you also need to make sure that you have everything in order in case you need it. If you need to know where to buy boat stands or Brownell engine racks, all you need to do is contact us by calling 508-758-3671 to find an authorized dealer near you.
Some of the things that you need to have can include:
your boat registration and certificate
insurance policy paperwork for towing
a personal flotation device for each passenger
fire extinguisher that is charged and functioning properly
complete emergency and survival kit that is fully stocked
Other Safety Tips for Smart Boating
Make sure that each and every passenger has a personal flotation device. Children need to wear one at all times while out on the boat and on the water. Make sure you know what the law is in the state that you are boating in so you won't be out of compliance with rules, regulations and laws. Adults should be wearing their personal flotation devices at all times too, however there aren't any laws that require it.
Make sure that you always stay aware of your surroundings so you won't run into any vessels, rocks or other potential dangers. Keep an eye on your gauges, including the fuel, temperature and voltage. This will help you to have a safe experience and identify any potential problems as quickly as possible. Make sure that you have another operator available who can take the helm if you become tired or sick. Ensure that this person is abstaining from alcohol consumption prior to and during the outing.
To learn more about Brownell engine racks and motor boat stands or to find out where to buy boat stands and engine racks for marine engines, give us a call at 508-758-3671. Check out our online boat stand selector to help you determine the right size and number of stands you need to protect your boat when it is out of the water.