Motor Boat Stands: First-Timer Tips for Launching Your Boat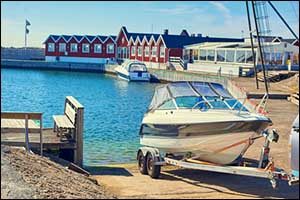 If you have never had to trailer and launch your boat for yourself, it is important to understand that there is a definite learning curve involved in the process. Perhaps you bought your boat at the marina and stored it there, never really having to launch it on your own. If you took your boat out of the water for painting or maintenance, the chances are good that you also needed to use motor boat stands or even Brownell engine racks, while you performed the work. If you are just considering taking your boat out or will be storing it in a garage or boatyard for the winter, make sure to learn where to buy boat stands and choose a boat stand designed for the make, model, and size of vessel that you own. The Brownell Boat Stand System is a great way to get the support and balance you need to protect your boat when it is out of the water.
Practice Makes Perfect
The first thing you need to know is that it is important to get used to the feel of moving your boat on a trailer. Go to an empty parking lot of area where you can practice maneuvering it around, going forward and backward, trying to get it into a specific space. This will help you to do a much better job when you get the marina. You should also take time to learn how to do common hand signals, especially if you and a partner will be launching a boat together. Marinas and launch areas can be quite noisy, so if you don't have some visual cues that you can use with each other, it could become confusing. Discuss the best way to convey signals like stop, go, left, right, or start over in case things get dicey.
Slow and Steady Wins the Race
Another thing that you will want to learn is that it pays to go slow and take your time. Whenever someone tries to hurry up and go fast, especially during a first launch, things get worse. There is no time limit for launching your boat. Ignore the honks, comments, and well-meant suggestions. Just take your time and know that you have a right to be there, no matter how slow you are at launching. Use your brake pedal and apply very little gas. Make small adjustments, turning the wheel to get the trailer where you want it before releasing the brake to make the move that is required. The same advice holds true for using motor boat stands for the first time. Take your time and be sure to read tips on proper use to protect your vessel when it is out of the water.
Learn Tips & Tricks from Experts
Don't be afraid to ask questions and get advice from other boat owners who have done this already themselves. The boating community is usually quite friendly, as boat owners often enjoy sharing information with others. Experienced boaters can give you tips, such as keeping your focus on the launch itself and not allowing yourself to get distracted by others. Learning how to correct a jackknifed situation before you need to do it so you'll know what to do if it happens. Taking advantage of tools, such as guide poles, which are used as a visual reference or using your mirrors to your benefit. There is no "right way" or "wrong way" to do it, as each trailer and boat combination is different. Take a little advice from each boater that you speak with and then see what works best for you.
Where to Buy Boat Stands
If you are looking to get motor boat stands, TLC pads for your trailer, trailer components, Brownell engine racks, and other essential tools for moving, launching, and storing your vessel, make sure to contact Brownell direct. We can help you to locate an authorized dealer near you, answer any questions that you might have about any of the products that we manufacture, and assist you in finding the best boat stands for your needs. To choose a boat stand online, visit www.boatstands.com and use the online Boat Stand Selector, which helps you find the best solutions based on the make, model, and year of your motor boat. Call today at 508-758-3671 and speak with one of our friendly customer service agents.