Motor Boat Ownership: 10 Rules for Taking Kids Out on Boats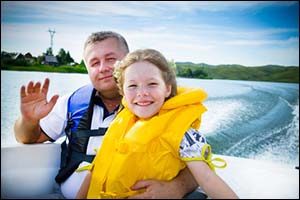 Owning a boat can be a real joy, but there is also a lot of work involved in maintaining it both in and out of the water. You can count on the Brownell Boat Stand System and the online boat stand selector to help you purchase the best stands and storage solutions for your motor boat. For removing your boat from the water, you can count on Brownell's boat lifting systems and engine handling products for off-season maintenance. However, it is important to increase your knowledge in boat safety, especially if you will be bringing kids out on the water with you. Whether the goal is to go fishing, water ski or just ride around the lake while on vacation, it pays to learn as much as you can about safety and to share that information with any passengers that will be on the boat as well.
Rule #1 – Life Jackets
Every single passenger on your boat needs to have a life jacket that is designed especially for their size, weight and age. Never ever allow kids to bend the rules on life jackets and pretty soon they will get so used to wearing them that you will build a lifelong habit of wearing one whenever they are out on the water. Check jackets regularly to make sure they fit properly and that they are compliant for use by your child.
Rule #2 – Safety First
Boats can be very kid-friendly, but you need to make it clear that panels and switches are not to be touched. Install a keyed access for your panel if it does not have one and do not keep the key where your children or guests can get it. Even when out of water, make sure kids know to stay away from your Brownell boat stand system, engine handling products and other products in your boat lifting systems, which can be dangerous to be around if they are left unsupervised.
Rule #3 – Calling for Help
Just like teaching kids how to call 9-1-1 in an emergency, make sure to train children on how to use the VHF and what they need to do to call for help if they are in an emergency situation.
Rule #4 – Boating Basics
For older children who are learning how to drive the boat, make sure they have a good grasp on boating basics and that they fully understand navigation rules. In addition to the life vest, instill a habit of always wearing the engine cut-off lanyard on their wrist whenever they take the helm.
Rule #5 – Conduct Drills
Make sure to practice drills with your children regularly, including "crew overboard" drills. Fasten a marine-grade whistle onto each child's life jacket and show them how to use it if they fall overboard or if there is an emergency situation.
Rule #6 – Know Your Area
Whether you boat in a local lake or take your vessel out into the ocean, make sure that your children are educated about the type of marine life that will be in the area. Highly risky animals, such as box jellyfish, barracuda, eels, sharks, water snakes and other creatures that may be localized to your region, should all be identified, warned against and reminded of on a regular basis. Knowledge is power, especially when it comes to your child's safety.
Rule #7 – Safe Play Areas
Teach your children about safe playing areas while out on the boat or while you are maintaining the boat when it is out of water. While boating, make sure children know not to play on the water or hang their feet over the bow while the vessel is operating. In some areas this is illegal because it can be so dangerous.
Rule #8 – Safe Maintenance and Storage
Use quality boat stands from the boat stand selector at the Brownell Boat Stand System website to ensure that your boat is properly stored and stable to protect your investment, as well as any children who might be near the boat, especially if stored or worked on at your home. Use boat lifting systems and engine handling products as indicated to prevent injuries and damage.
Rule #9 – Identify the Safe Zone
If you are out boating at night or during a storm, make sure children know where the "safe zone" is on your vessel. They should also go to and remain in the safe zone when docking or anchoring the boat. This helps you to keep focused on maintaining control of the vessel without having to worry about where the children are or what they are doing.
Rule #10 – Swimming Lessons
Not to be overlooked, all children should have swimming lessons if they are going to be spending any time out on the water. Check with your local public pool, YMCA or other family organization for lessons and make sure your children can pass a basic swimming test before they go out on the water.
Safety Tips from the Brownell Boat Stand System
The boat stands, boat lifting systems, dollies and engine handling products available from Brownell, the number one name in boat storage for over 50 years, are all designed to keep your boat safe. However, we know that keeping your precious cargo safe is also a top priority for boat owners. The tips provided here are designed to help you set rules and provide information to passengers that will keep them safe both on and off the water. Use our online boat stand selector to choose the products that are best for your type of vessel or give us a call at 508-758-3671 to find an authorized dealer of the Brownell Boat Stand System and other Brownell products near you.