Mid-Summer Maintenance: Quality Boat Stands Made in the USA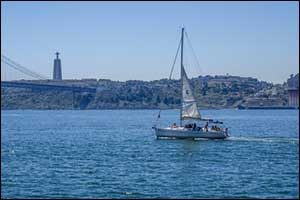 Whether you perform the work yourself or hire someone to do it for you, mid-summer maintenance can help keep your motorboat or sailboat performing as it should throughout the season. While no one wants to take their boat out of the water at the height of the summer, preventive maintenance can help to protect your vessel to ensure that you are out on the water for as long as possible without delay. Neglecting maintenance and repairs can cost you valuable time. The more you can do to prevent a lengthy repair or work from being done during the summer months, the more you'll be able to enjoy your boat throughout the season.
Top quality boat stands are essential to any type of maintenance or storage solution. Brownell Boat Stands makes a wide range of motorboat and yacht stands, as well as keel stands and benches, that can be used to support and balance your boat while it is out of the water. Our boat stands made in the USA come in two varieties: traditional blue painted and hot dip galvanized, to provide long-lasting durability and good looks. Choose the best option depending on where you maintain or store your vessel, as well as for the type of boat that you own. Many professionals rely on Brownell products, including boatyards, dealerships, service providers, and other storage solutions.
What Should You Do?
While most boat owners are aware of the services that should be performed for winterization or to bring their boat out of storage in the spring, mid-summer maintenance can be somewhat of a mystery. What services are best-performed mid-season to help keep your boat in great shape, reduce end-of-season maintenance, and keep you out on the water longer during the summer? Some of the services listed are considered to be "routine," meaning that you should probably do them throughout the summer season. However, others might only need to be done once or twice for preventive maintenance.
Inspect the bottom of your boat after every outing. If there is any fouling or slime present there or above the scum line, make sure to remove it according to the manufacturer's recommendations. Don't use any chemicals or processes that would harm the environment and make sure that it's okay to do this at the boatyard or other storage facilities while using top quality boat stands, keel stands and benches. Remove the growth as much as possible without damaging the paint. Harder growth, such as barnacles or other lifeforms, might require the use of a paint scraper or other treatments. Again, using boat stands made in the USA, such as motorboat or yacht stands designed for your vessel, will provide the best results.
Check your boat and propeller for any damage. If you notice anything that should be repaired make sure to do it right away. Depending on where you launch, there could be seaweed or fishing line wound around the shaft, as well as other debris, which could put extra strain on the motor. Anything you can do to improve the performance of your vessel is encouraged. While you won't always need to take your boat out of the water and place it on top quality boat stands to achieve these services, it's a good idea to use stackable yacht stands and other equipment and keep it readily available for when you do need them.
Take a good look at all of the lights on your boat. You don't want to get caught out on the water after dark and not have all o the proper lighting. Consider replacing old and outdated fixtures with energy-saving LED lights. Make sure to check with the manufacturer or speak with a service representative to ensure that you are making an upgrade that suits the needs of your vessel. Properly clean the socket and all contacts or use replacement sockets for best results. Inspect all wiring and zinc anodes for any corrosion. You should make this a part of your regular inspection routine so you can make repairs in advance of a failure.
Lubricate everything from fittings to linkages, seacocks, and anything else that might require some extra lubrication. Spray marine lubricant on fuse blocks, ground buses, and the engine that will dry and create a protective film. Make sure that everything is clean and in good working order while you perform this task. Once again, this should be a part of your routine to avoid costly repairs and issues down the line.
Create a "cheat sheet" for yourself that has all of your vital information on it. Include a map with placement for yacht stands, keel stands and benches, as well as instructions on the size and type of top quality boat stands to be used for drydocking or out-of-water repairs. Write down all information for fuse sizes, bulb types, and other essential parts, so you'll have it handy when repairs or preventive maintenance is required. Include dates that services were performed, such as changing out filters and oil changes, to help you keep track of what needs to be done.
The Brownell Boat Stand System
If you are interested in learning more about our equipment and boat stands made in the USA, visit our website at www.boatstands.com or give us a call at 508-758-3671. Brownell's top quality boat stands, keel stands and benches are used worldwide by private boat owners and professionals. Whether you require motorboat stands, yacht stands, or boat lifting systems, you can count on the Brownell name for quality results.