Marine Industry Stands: The Do's and Don'ts of Boat Storage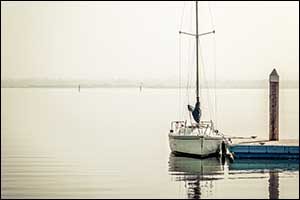 Regardless of where you live or how much time you spend out on the water, every boat owner will be faced with the decision about how and where to store their vessel when it is on dry land. Whether you choose to store your vessel indoors or at a boat yard during the winter season or if you stow your boat temporarily while you travel or are out of town, it pays to have the right equipment at your disposal. Marine industry stands are available in several price ranges and utilize a variety of different materials. However, to truly protect your boat and keep it in the best possible condition, your best bet is to use the Brownell Boat Stand System. Choose from a variety of keel stands or keel support to hold the weight of your vessel and use quality foldable sailboat stands or the right combination of sailboat stand equipment for balance.
Why Choose Brownell?
Pioneered in the early 1950s, the Brownell name is synonymous within the marine industry for designing and manufacturing the best quality boat stands and equipment in the business. The Brownell Boat Stand System is used by professionals and individual boat owners alike to provide comprehensive support for sailboats, motorboats, yachts, and much more. When you visit a reputable boat yard in your area, you will likely see the distinctive blue and orange boat stands that are the mark of the Brownell manufacturing line. You can use our marine industry stands to store your boat at home in your own backyard or garage, as well as at a professional boat yard or storage facility, depending on the options available.
While it might sound easy to just pick your boat up out of the water and prop it up on a bunch of stands, it really isn't. If you aren't sure what type or size of foldable sailboat stands and keel support you will need, take some time to browse your owner's manual. If you cannot find the information you need to pick the right sailboat stand system for your vessel, consider contacting the manufacturer or use our online Boat Stand Selector tool to find the best options for your specific needs. The Brownell team can help you as well if you contact our main office in Mattapoisett, Massachusetts. We are proud of the top quality stands and equipment that we manufacture and can help you find an authorized dealer near you.
What Supports the Boat, Anyway?
The first thing you need to know that while the tools used to support your boat are known as a boat stand system, the most important part of the equation is blocking. Learning how to safely and effectively block your boat is an essential step in the use of marine industry stands. Once the weight of your boat is accounted for, you can then balance the vessel through the use of sailboat stand equipment. Flat swivel tops, V-tops, and a variety of TLC boat pads can be used in conjunction with the Brownell Boat Stand System to ensure safe balance and support to protect your boat while it is out of the water.
sailboats should have their full weight sitting on their keels with blocking supports
Brownell blocking supports consist of wooden blocks, galvanized steel blocks, adjustable keel stands, and benches depending on your needs
when properly blocked, the boat should either be level or lifted slightly at the stern for drainage purposes
one the weight of the boat is supported, you can focus on balance
How the Sailboat Stand is Used
The marine industry stands that everyone thinks about when they read the term, "boat stands," are meant to balance your boat, not support it. Once you have your vessel blocked upon keel blocks, stands or benches, it's time to use this part of the Brownell Boat Stand System to ensure your boat won't fall over during storage or while out of the water for maintenance and repairs. The Brownell foldable sailboat stands and stackable sailboat stand options make it easy to store your stands when they are not in use. This does not diminish the quality or stability that they provide.
Sailboat stands come in many different styles and sizes. You will need a minimum of six stands for a sailboat and stands should always be used in pairs. For larger vessels, eight or more stands may be required. Stands should be placed together in pairs opposite each other on the boat and not staggered for best results. It is essential to consider where the boat will be stored (indoors or outdoors) and the conditions that it will have to endure. Windy areas, parts of the country where there is a lot of rain, hail, sleet, and snow, should all be taken into consideration. Boat covers, whether custom-made for your vessel or applied as a shrink wrap service, should be used for added protection.
Visit Boatstands.com for Brownell Products
If you are ready to start shopping for marine industry stands to use with your sailboat or powerboat, make sure to visit our website to see the full selection of options available in the Brownell Boat Stand System. Not sure what you need? Our team of friendly and knowledgeable sales representatives can help you determine the type, size, and the number of stands required for your vessel. We can also provide you with information on how to visit an authorized dealer near you. Give us a call at 508-758-3671 or use our Boat Stand Selector via the website to help you choose and purchase the right combination of stands and support.