Marine Industry Stands: Storing Your Pontoon Over the Winter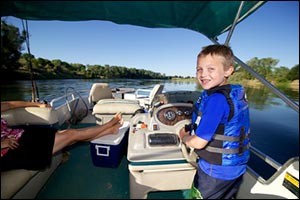 Did you remember to take care of all your winterizing tasks for your pontoon when the weather started getting cold? Sometimes a mild winter can cause boat owners to be a little bit lazy with winterizing and proper storage. The common advice that is given for winterizing outboards and fuel systems will also apply to a pontoon, but because of the boat's unique design and shape, there are some other things that will need to be done differently from and in addition to the maintenance that is required for other types of boats.
Outdoor Storage for Pontoons
One of the best ways to take care of your boat is to choose a boat stand that is designed specifically for your type of boat. Nested boat stands from the Brownell Boat Stand system are designed to work with sailboats, motor boats and other types of vessels, however there are special marine industry stands that are used for unique vessels like pontoons. The Steel Pontoon Boat Dolly available from Brownell can help you to protect your boat by keeping it up off the ground. The use of these dollys can also help you to safely and securely move your pontoon boat wherever you want to store it over the winter months.
If you will be storing your pontoon outdoors, make sure to cover your boat and provide special support for the pontoon cover over the broad playpen area of the boat. If you don't add support, the fabric will catch and collect rain or snow as it begins to melt. This will create a "swimming pool" effect, which can cause all sorts of problems. Water can seem down into the decks, on furniture and can even break railings and seats if it becomes heavy enough. Pontoon logs can even be damaged by the weight of the water, causing ruptures or flat spots.
BONUS TIP – It pays to check on your pontoon, even if it is properly stored on steel pontoon boat dolly equipment and if you have provided support for the cover, just to make sure nothing has gone awry during all the wind and rain and snow and ice of winter.
Indoor Storage for Pontoons
It should be said that even if you will be storing your pontoon indoors, you should still take the time to perform end of season maintenance and cover your boat for best results. Make sure that the cover is properly supported and tied down to prevent dirt, dust and debris from settling on furniture and other parts of your vessel. Take advantage of the Steel Pontoon Boat Dolly to keep your boat up off the ground. Winterize the motor, draining it and covering it to prevent problems from occurring while it is in storage.
Another option for indoor storage is to get covers just for the things that really need covering, such as the pontoon boat seats and anything else that might be damaged by normal wear and tear in storage. Benches, seats, love seats, helm chairs and other items can all be cared for with specially designed covers or by using other covers intended for patio furniture or other furniture for this purpose.
Why Choose Brownell Marine Industry Stands
Brownell makes a wide range of foldable and nested boat stands for many different types of vessels, including motor boats, sailboats and personal watercraft. They also make an adjustable Steel Pontoon Boat Dolly that is designed for use indoors, outdoors, workshops, showrooms, boat shows and production facilities. The wheels are non-marking and they rely on the adjustable screw pads that Brownell is known for that we use on all of our marine industry stands.
The purpose of the Steel Pontoon Boat Dolly is to easily transfer pontoons to and from the water. They are all protected with the traditional Brownell blue painted finish and are easily moved on our four-inch phenolic casters. Brownell has built a solid reputation within the marine industry for developing some of the most professional, heavy-duty marine industry stands. You can visit our website to choose a boat stand that is right for you, designed to support and protect your vessel.
Contact Brownell direct by calling +1-508-758-3671 to find out more about our Steel Pontoon Boat Dolly and other foldable or nested boat stands. Choose a boat stand from our wide range of options and learn more about why Brownell marine industry stands are so popular among boat owners, boat yard owners, mechanics and other marine professionals.