Marine Industry Stands for Winter Boat Storage and Safety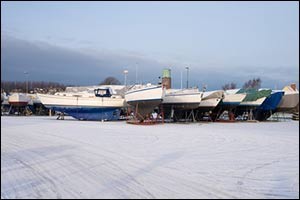 No matter where you live on the planet, there comes a time when you need to store your vessel for safety. In North America, that time is in the winter months when keeping your boat out on the water can be dangerous, especially in the northern states. Ice can sometimes pile up to as high as three or four feet, causing lots of damage. Most boat owners in these areas keep to a schedule of six months in and six months out, to help proactively protect their investment.
In tropical climates, such as down in Florida, the Gulf of Mexico and out in California, it is possible to store a boat out on the water year round in most situations. Knowing whether you should lift your boat out of the water and place it on marine industry stands in a boat yard or an indoor storage, or keep it out on the water, will depend greatly on where you live, the type of boat that you have and what you can afford to do. After all, if you keep your boat out on the water because it's cheaper, but your boat gets damaged as a result, how much are you really saving?
Dry Docking Your Boat
One of the best ways to protect your boat when it is on dry land is to use Brownell boat stands. Most boat yards will give you access to a variety of boat dollies, stands and keel support, depending on the type of vessel that you own. Some boat owners prefer to purchase their own marine industry stands, especially if the boat yard uses a less-superior stand to the Brownell boat stands they are used to using. The type of stands that you use really do make a difference in the safe storage of your boat.
In many ways, dry docking your boat will make more financial sense, especially if you live in an area where there are a lot of damaging winter storms. Other advantages to dry docking include giving your boat a chance to "dry out" while it is placed on marine industry stands and keel support. This is especially true with fiberglass boats, which have been proven to develop fewer osmotic blisters if they are allowed to dry out, compared to boats that are stored on the water. Repairs for this type of damage can be really expensive, so drying out your boat for half the year can help to prevent you from having to get it done in the first place.
Wet Docking Your Boat
Another term for storing your boat on the water, wet docking is seen by many boat owners as giving them a head start on the spring boating season. Unfortunately, if you need any exterior work done, such as painting the bottom of the boat or doing other repairs, placing your boat on Brownell boat stands at a local boat yard might be the best solution.
Wet docking may seem easier because you really don't have to do anything to prepare your boat for the winter, but studies show that a large number of insurance claims get filed each year by boat owners who had their vessels damaged due to storing them in the water during a sudden freeze. Even late fall and early spring seasons can cause damage to your boat.
It is a good idea to learn about when it is safe to put your boat back in the water to prevent this type of situation. Ask other local boat owners – and your insurance provider – for more tips about storing your boat on Brownell boat stands, keel support or using boat dollies for best results. Any concerns that you have about using a boat lift or hiring someone to do the work for you pale in comparison to what could happen to your boat if you left it out on the water too late or put it back out too early.
Choose Adjustable Brownell Boat Stands
There are a wide variety of marine industry stands available to choose from, but by far the stands, boat dollies, keel support and adjustable stands at Brownell are the most superior. Make sure to use enough stands to protect and support the hull and the keel, taking into account any load bearing areas within the hull, such as the fuel tanks, sanitation tanks, water tanks and the boat's engine. Winterizing your boat ahead of dry dock storage on marine industry stands can really help to reduce the load and protect against condensation and other common issues seen in stored boats.
To find out more about Brownell boat stands and the Brownell boat stand system, give us a call at +1-508-758-3671. Our products are made in America from top quality American steel to provide you with long-lasting, great-looking, durable results. Contact us today or visit our website to use our boat stand selector tool to find out which products will work best with your unique situation.