Marine Dollies: Safety & Maintenance for Personal Watercraft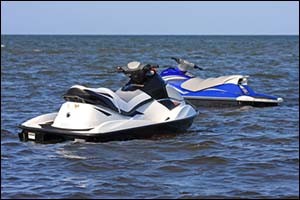 Also known as a "water scooter," a personal water craft or PWC, is a recreational watercraft for one or multiple riders. There are two distinctly different types of PWCs, which includes a style where the rider is sitting down. This type can hold one or two people at a time. This is by far the most popular style and the most commonly used style by far. The second style is a stand-up version, which is built for just a single rider. The rider is able to do more advanced skills, such as racing or doing tricks, either competitively or just for fun. Both styles can be hauled behind a truck or other capable vehicle via a personal watercraft dolly.
Popular brand names have often replaced the term personal water craft or PWC. Sometimes they are simply called Sea-Doos, Jet Skis or WaveRunners, after the most popular brands that are sold. While most of these water scooters are designed for use by one or two persons, there are some newer models that are designed for even more riders, holding up to four passengers. An inboard engine that drives a pump jet with a screw-shaped impeller is used to create the thrust for steering and propulsion. Alternate marine dollies can be used for transportation to and from the water. PWCs can be used in either fresh or salt water situations.
Choosing a Trailer
It is important to select a trailer that will properly transport your particular size and style of personal water craft from your home or storage to the water and back again. Trailer components should be made from American tubular steel construction, like the personal watercraft dolly made by Brownell Boat Stands. The Brownell name has stood behind top quality marine products for well over 50 years, and our alternate marine dollies and trailer components are just as durable and long-lasting. Made in America and sold all around the globe, you can count on the Brownell Boat Stand System and trailers to properly care for and transport most types of vessels.
Safety Tips for PWCs
Personal water crafts are very popular for people of a wide variety of ages. Families, thrill-seekers and vacationers enjoy them just about any place you find recreational bodies of water. However, it is important to note that most people don't take safety with these vehicles seriously. You should take some time to learn a little bit about being safe on a personal water craft before you ever enter the water. If you own your own water scooter, make sure to take time to go over some of the safety guidelines below before you load it on your personal watercraft dolly or alternate marine dollies to take it out to the water.
COMPASS – It is easy to get lost quickly, especially if you are not familiar with the area.
RADIO – A marine radio should be installed to call for help or get weather reports.
SAFETY – Include a safety flare kit or whistle to help you call for assistance in an emergency.
FLASHLIGHT – In case you get stuck out on the water at night or to signal for help.
INSURANCE – You should carry proof of insurance in case you get in an accident with another boater or individual out on the water.
In addition to these items, you are also required to have an approved and rated personal flotation device for you and your passenger(s), as well as a dead-man lanyard that connects the driver to the ignition of the water scooter. You can get even more safety tips and helpful hints from your local PWC dealer, insurance agent or marina.
Proper Storage
Just because you can fit your personal water craft inside of your garage doesn't mean that you don't need to do a complete winterizing check on it just as you would any other type of vessel. Make sure to clean your PWC prior to loading it up on your personal watercraft dolly and that you have the proper trailer components for storage. Brownell Boat Stands and products are all built using long lasting, durable American tubular steel construction, so they are designed to work great and support your personal water craft vessel without buckling or breaking. Consider covering your vessel in the off-season or when not in-use, to prevent dust, dirt, debris and pests from getting on it. A tarp or special PWC cover will do nicely.
Trailer Components, Dollies and More
If you are interested in learning more about the American tubular steel construction boat stands, alternate marine dollies and trailer components available from Brownell Boat Stands, you can give us a call at 508-758-3671. We can help you find the right personal watercraft dolly and components for your vessel and can even let you know about local authorized dealers in your area. Give us a call today and find out why boaters have relied on our products for over 50 years.