Maintenance Tips: Best Practices for Taking Care of Your Boat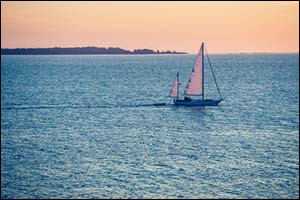 One of the best things that you can do for your brand new boat is to learn how to properly take care of it. From storage to cleaning, basic annual maintenance to where to buy boat stands for your specific type of boat, there are a lot of things to learn. Sailboat jack stands, keel stands and galvanized boat stands can all be used to provide support for your vessel while you perform these basic tasks. Take time to learn the best practices for taking care of your boat to protect your investment and ensure many years of fun and exciting use out on the water.
Basic Storage Tips
Whether you are storing your boat at home or at a local boat yard, it is important to know what type of equipment is required to protect your boat when it is out of the water. Sailboats have different requirements from motorboats, as do smaller personal watercraft and much larger vessels. Deciding whether to store your boat indoors or outdoors may just be a matter of preference or affordability, but depending on where you live, it could mean the difference between lots of extra springtime maintenance or being able to launch your boat the minute the weather turns good.
Indoor storage provides you with guaranteed protection from the weather and outdoor conditions. UV rays can damage many different components on your vessel and protection from rain, wind and temperature variations can be essential in some parts of the country. Storing your boat in a garage on your own property, it is important to still provide cover with a tarp or other specialized covering to keep it free from dust, debris and moisture. It can also help to keep rodents, insects and other pests off of your boat.
Make sure to also think about how your boat is stored. Get quality sailboat jack stands and keel stands to give your sailboat good support. Consider galvanized boat stands for even longer lasting use and protection. Learn where to buy boat stands and what brands to trust, like the Brownell Boat Stand System. Also try to keep your boat away from any heat sources, such as radiators or heat fans. Don't place your boat near anything that might possibly fall down on it during storage, such as tools, equipment or other personal watercraft.
Routine Maintenance Tips
It is important to establish a regular routine of providing maintenance for your boat. If you don't know a lot about basic boat maintenance, don't be afraid to take a basic class. You will likely find these classes near or even sometimes at the local marina. Ask your boat insurance company about possible classes in the area and discounts for taking classes that can be applied to your policy. There are a few features on your boat that need to be checked regularly throughout the year, as well as other things that need to be checked seasonally before you put your boat in the water and after you take it out again.
MOTOR – watch for any rust or corrosion on the engine, fuel line and clamps; replace any belts and hoses that are worn or damaged; flush the engine after every single trip
OIL – oil should be changed when it gets dirty; check the oil filter to make sure that it is functioning; top off oil levels in between when necessary
PROPELLER – check it regularly for any cracks or dents, replacing and repairing when necessary; make sure it is properly greased and that the nut is tightened sufficiently
HULL – look for cracks or any other type of damage; make sure to patch and repair them as you find them using the proper galvanized boat stands and keel stands to support the vessel
Basic Cleaning Tips
A lot of problems that boat owners experience can be prevented through a good cleaning routine. Taking care of your boat hull by removing it from the water and setting it on motor or sailboat jack stands to check for marine plants, algae, barnacles and rust, will help it to last for many years without requiring any major repairs. If you use your boat in salt water, make sure to rinse it off with fresh water after an outing. Salt residues can quickly corrode your boat.
Only use cleaning products that are designed for use on boat hulls, as other chemicals can harm your hull. You can find them at most marine stores, like where to buy boat stands. Do not use abrasive cleaning tools, just a soft sponge and always clean in a circular motion without applying a lot of pressure. Consider adding a protective coat of anti-fouling paint to your hull, depending on the local waters.
Trust the Brownell Boat Stand System
Whether you are shopping for galvanized boat stands to use in storage, or are looking for more specialized options like sailboat jack stands or keel stands, it is important to know where to buy boat stands that will protect your vessel and last for many years. The Brownell Boat Stand System is designed for quality and has been trusted by boat owners all over the globe for over 50 years. We sell sizes to fit virtually any boat and all of our motor and sailboat jack stands, personal watercraft stands, keel stands and painted or galvanized boat stands come with a lifetime warranty. You can trust our solid American steel, ACME threaded adjustable rod and superior welded construction. For more information on Brownell boat stands or to find out where to buy boat stands in your area, give us a call at 508-758-3671 at our home office in Mattapoisett, Massachusetts.