Maintenance 101: Engine Handling & Boatstands for Motor Boats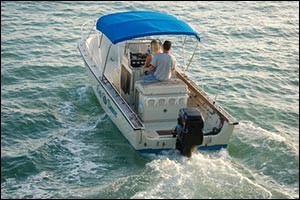 It is important to take good care of your boat to protect your long-term investment. If your boat features an outboard engine, you need to learn all you can about maintaining it throughout the year. Regardless of the brand, the maintenance required for most outboard engines and motor boats in general is relatively simple. Taking time to learn what is required can save you lots of time and money over the life of your motor boat.
Outboard motors are used on many different sizes of boats and can range in horsepower ratings between 60 and 550, depending on your needs. Understanding the basic requirements of these motors, and knowing what type of equipment and tools are needed to properly maintain, store and safeguard them both in and out of the water, will help you to keep everything working as it should for many years.
Engine Handling Products
Brownell Boatstands is the number one name in boatstands. In fact, Brownell literally invented the boatstand as we know it today. However, Brownell also provides other tools and equipment that are necessary for the care and maintenance of boats, including engine handling products. For example, the Brownell Outboard Storage Rack is made from a heavy duty steel construction and is painted in the traditional blue finish for long-lasting durability. Contact surfaces feature rubber coating to prevent scratching during use, and to protect your engine during maintenance and servicing.
Brownell also features other types of engine handling products, including the Brownell Stern Drive Rack 4 and 7 options, which are designed to assist in maximizing shop efficiency and the Brownell Stern Drive Installer SD3 is a heavy three ton jack that is designed to safely and easily remove or install stern drives. These products are used by individual boat owners and shops as well, due to the strength, durability and quality of these American made tools, designed for use with a variety of vessels. Make sure to check out the different types of boat stands available, as well as safety chain for boat stands for even more protection.
The Parts of an Outboard Motor
While not meant to be a definitive guide to the proper care and maintenance of your outboard motor, the rest of this article will focus on the different parts of the engine that you should know in order to provide proper maintenance. Remember to safeguard your motor boat by choosing top quality boatstands when it is out of the water and use a safety chain for boat stands with the appropriate types of boat stands for the size of your vessel.
The Cowl – Also known as the hood, this feature protects the powerhead and other components from immersion. A rubber gasket is used to seal out water. Check the gasket regularly to make sure that it is working properly.
The Powerhead – Located under the cowl, the powerhead consists of the engine and all of its components. These components include the fuel injection system, the alternator, the starter, the electronic control module, cable ports and, if applicable, the oil injection system. Four, V-6 and V-8 options are available on saltwater fishing boats, however most outboards are a four stroke.
The Fuel System – Nearly all outboard motors burn gasoline and use an electronic fuel injection system over carburetors, making them easy to start and very fuel efficient compared to older motors. Make sure you are using a fuel source that has the proper ethanol content for best results.
The Throttle & Shift – There are a couple of options available in this area, so depending on your vessel you might have a digital throttle-and-shift system or the traditional system, which uses mechanical cables from the helm to the powerhead. Frequent inspection and lubrication is required for the traditional system, so it is important to check the points where these cables connect to the engine and the control box.
The Tilt & Trim – This feature allows you to raise or lower the drive via a control box switch. The tilt function, which should only be used when the engine is off, allows the drive to be elevated out of the water while the boat is docked to minimize outboard corrosion or for fishing in shallow areas. The tilt should also be used when the boat is on the trailer for removal via engine handling products to be stored on boatstands for maintenance or storage.
The Propeller – This is the part that delivers the power to the water. The propeller should be the right size for the outboard motor and for the vessel. It should also be well-maintained and in good condition.
Trust Brownell Products for Motor Boats
If you need to do any type of maintenance on your motor boat or other type of vessel, you can count on Brownell products. From our signature Brownell Boatstands, which are available in a variety of types of boat stands for different purposes, to our engine handling products and safety chain for boat stands, we can provide you with high quality tools and equipment that you can use to help maintain your boat. Contact Brownell by calling +1-508-758-3671 or visit one of our authorized dealers to see our products in person.