Made in America: A Newbie's How-to Guide for Trailer Boating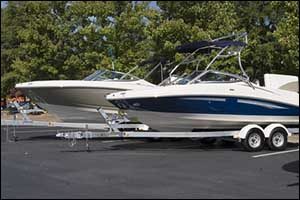 What is trailer boating? Well, you might guess that it has something to do with boating and trailers. There are many advantages to trailer boating versus just leaving your boat at a local marina or pier. Once you learn the ins and outs of what is required to become a trailer boater, you will see for yourself why so many boat owners choose this boating lifestyle for themselves. It is important to learn all you can about various trailer components, types of trailers, trailer wedge stands and pads, as well as how to spot the best equipment.
Brownell is well-known in the industry for our boat stands and accessories, but we also make trailer components that are designed to stand the test of time. Made in America, our products feature a hot dip galvanized finish or our trademark blue-and-orange paint protection, for long-lasting durability. So when it comes time to purchase the equipment you need for the proper care and transport of your vessel, you can count on the Brownell name to help you get the job done right.
The Advantages of Trailer Boating
Perhaps one of the biggest advantages of trailer boating is having the ability to take your boat anywhere you darn well please. Once you learn how to properly use all of the trailer components to your advantage and get the techniques down pat, you'll be able to launch your boat and save money on marina fees to boot. Whether you store your boat in your own garage at home or trailer it into a local yard, it is important to use top quality trailer wedge stands and pads to protect your vessel during transportation and downtime.
Other advantages of trailer boating include being able to transport and launch your boat at ramps that are conveniently located to popular fishing spots without having to take off from the marina or pier. Just trailer that boat right to the prime fishing location and launch it right there at the ramp so you can get hooks in the water without delay. Trailer boating allows you to go anywhere you want, whenever you want, without having to deal with all the boat lifting nonsense and delays experienced by boat owners who store their boats at the marina.
How-to Trailer a Boat
Believe it or not, the steps required to trailer your boat are simple and few. However, you can add in layers of extra tips and trailer components that will help you to customize the experience. Choose top quality, Made in America trailers and parts that are protected from the elements (and all that loading and unloading) with a hot dip galvanized finish or thick painted surface. Trailer wedge stands and pads should be used and can be purchased to suit your particular vessel and the type of trailering that you will be doing. Make sure that the tow vehicle you choose can handle the weight of your vessel AND the trailer, as well as anything else you will be hauling. Many new boat owners overlook this and end up in big trouble.
To hook the trailer up to your truck, here are the basic steps involved:
make sure the hitch and ball are lined up, then lower the hitch down over the ball
close up the latch and then insert the safety pin
take the safety chains and cross them before attaching them to the truck
attach the safety line for the trailer brakes to the truck
check to make sure all the lights are working before you get on the road
Tips for a Safe Towing Experience
Whenever you tow your boat, make sure to think about the tortoise and the hare: slow and steady is what wins the race. Give yourself enough time for each trip so you won't feel rushed or be in a hurry, as that is when accidents and damage usually occur. Take time to perform a complete safety inspection of your rig before you get on the road. Get in the habit of doing this each and every time you trailer your boat and you won't be sorry. Check all of the trailer components, make sure the vessel is properly set on trailer wedge stands and pads, ensure that your Made in America equipment is in good shape, and double-check to see that everything is hooked up to the hitch the way that it should.
Brownell trailer wedge stands are made from American steel and have been designed to be mounted to a crossmember, fastened to a wooden beam or bolted to a trailer frame, giving you the ability to build a cradle on your own trailer to protect your vessel during transport. Choose from a hot dip galvanized finish or our trademark blue painted surfaces for added durability and protection. Brownell boat stands have earned a solid reputation for being the best quality boat stands ever made. Each and every product we provide is made with the same level of quality and attention. Contact our team at our Mattapoisett, Massachusetts location by calling 508-758-3671 or use our online Boat Stand Selector to find the stands, trailer components and pads that you need to become an expert trailer boater.