Keep Your Boat Afloat: Common Springtime Maintenance Issues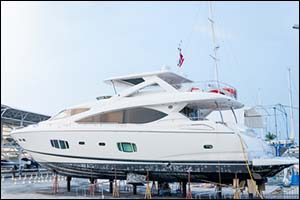 So you did everything you thought you needed to do when you put your boat "to bed" at the end of the season last year. Had it winterized, shrink-wrapped and made sure it was properly put up on stackable boat stands from the Brownell Boat Stand System. You even went the extra mile to make sure that you purchased the right size and type of motor boat stands based upon your exact type of vessel and used quality engine racks for marine engines when you serviced your outboard motor. Unfortunately, even though you technically did everything right, there could still be a common springtime maintenance issue or safety glitch just waiting to rear its ugly head when you get out on the water. Before you take that leap of faith, make sure to check things out to ensure you didn't miss something important.
Water in the Bilge – Even if you covered your boat properly and had the drain plugs pulled while it was in storage on a proper boat stand, your bilge could still have water that made its way inside through tiny leaks or condensation. As a result, freeze damage can occur during the winter months that could cause major problems. Test your pumps at the auto and helm switches, not just to make sure that the switch works, but also that it is able to swing freely and smoothly, as it should.
Cracked Hoses – Another area where tiny bits of water can lead to freeze damage is in the hoses. Don't just visually inspect your hoses, make sure to twist and tug on them while keeping an eye on clamps, droops and any attachment points, which is where cracking almost always occurs first. Hidden freeze damage can be anywhere if water were to collect and freeze during the winter months, even for boats stored properly on motor boat stands. Check low spots where water can settle and sit.
Communications Gear – Take a good look at your VHF radio to make sure that everything is functioning as it should. You don't want to get out on the radio and need it, only to find out that it isn't operating. Bad connections, dead mics and other issues can occur during the off-season, even if you have taken steps to protect and cover your gear while it sat on stackable boat stands in a garage or boat yard. Do a radio check before you take off on a trip – even a small one. Check the antenna mounts and consider upgrading them to stainless steel to ensure everything stays in place.
Water in the Fuel – One way to prevent condensation, which can build up and cause water problems inside your fuel tank over the winter, is to make sure that your built-in tanks are left full. You should also treat the fuel with a trusted stabilizer, but even that doesn't guarantee water won't get into the tank. Make sure to drain the fuel-water separator before you launch your vessel to ensure that the fuel is 100 percent free of any water. You should check it and drain it again during your first run and check it a third time when you get back to the dock. Regular checks during the season will prevent costly damage and keep your boat running as it should.
Clogged Drains – There are a lot of things that can clog up your drains that you might not even notice when you take your vessel off the motor boat stands and prepare to hit the water. However, it pays to check drains thoroughly for things like leaves and twigs before you launch. Other things, such as wasps or even mice, can build nests inside the tubes, which can create nasty clogs that you won't notice just by giving your boat a once-over. Blast some water through the tubes and make sure that the drains are functioning properly. You should do this while the boat is still up on stackable boat stands and before you put the onboard motor back from the engine racks for marine engines. As they say, an ounce of prevention is worth a pound of cure.
Outdated Gear – A lot of boat owners know that having safety gear is important, but they forget to check on it each year to ensure that it hasn't expired. The US Coast Guard writes citations for fire extinguishers that are empty or expired and for flares that are beyond their expiration date as well. It is easy to lose track of when things were most recently purchased or replaced. For example, flares are considered expired 42 months after they were made – not when you purchased them or put them on your boat. Make sure to check all of your safety equipment, including life preservers, to ensure that they are not outdated.
Trust Brownell Boat Stands
Make sure that your vessel is safe and protected year-round. Stackable boat stands, motor boat stands, dollies, trailers and engine racks for marine engines are all part of the world-famous Brownell Boat Stand System, available only at authorized dealers. Visit our website to view our boat stand selector to make sure you get the right type and number of stackable boat stands for your vessel or give us a call at 508-758-3671 to find a local dealer near you.