Is Your Marine Business Prepared for the End of Season Rush?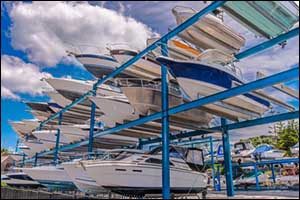 Depending on where you are located in the world, you might be preparing right now for the onslaught of customers bringing their boats in for winterizing and storage. In the Northern Hemisphere, summer is coming to an end and winter is about to make its appearance. For those in the Southern Hemisphere, winter is winding down, and your customers might be getting ready to prepare their boats for spring sailing. Whatever your situation, it is important to make sure that your boatyard, marina, repair shop, service center, or another type of marine business is prepared to meet the demands of your customers.
Do you have enough boat stands for sailboats and motorboats on hand? Have you inspected the trailer components and boat racks that you will need for making repairs or providing services? Did you remember to order jack stand replacement parts or upgrade your boat stands to the hot dip galvanized finish to increase the return on your investment? There are a lot of things to think about when preparing for the "change of season" at a marine business, so it pays to get started as early as possible. The Brownell Boat Stand System and top quality line of products can help you ensure the safety and stability of the vessels at your facility.
Why Are Brownell Products Better?
When you look around the boatyard or start comparing different types of boat stands for sailboats or motorboats, you will see the difference in the quality of Brownell products. Whether you choose the hot dip galvanized finish or our traditional blue paint dipped coating, all of our boat stands and keel stands are extremely durable and are designed to adjust under a tremendous load. We use 100 percent American tubular steel in the design of our boat stands, keel support, and related trailer components, jack stand replacement parts, and accessories. Our adjustable parts are made from solid steel, ACME threaded rod for performance, reliability, and strength. Other stands that are commercially available have hollow shafts and poor threads that have been known to bind. These are just some of the reasons why Brownell boat stands are the best selling stands in the world.
All of our stands are 100 percent American made right here at our New England facility. Our team consists of knowledgeable and experienced craftsmen who have extensive hands-on training with the materials and the marine industry. Some other brands use Asian steel, which has a reputation for varying widely in its quality. Asian steel is also much more susceptible to rusting at a quick pace and bases that are made from angle iron can be damaged easily and are not as strong as the American steel that we use. Our skilled American labor force takes pride in the work that they do. Our stands have been independently certified to have a safe working load of 20,000 pounds. Even the hardware used on our boat stands is of the highest quality, including solid steel handles and nuts. Marine grade plywood pads are used to create our well-known TLC boat pads for superior performance.
Going the Extra Mile for Customers
The marine industry can fluctuate from year to year, depending on the local economy. While some boat yards and marinas can claim 100 percent occupancy each year, others may struggle to reach the 70-80 percent mark. One way to attract more customers to your business and retain customers for many years to come is to go the extra mile by providing top-notch services and solutions. Choosing quality boat stands for sailboats and motorboats can make a big difference. When prospective customers tour your yard, will they see a neat stack of nested Brownell boat stands with a hot dip galvanized finish or a bunch of rag-tag mismatched stands and blocks that are in need of painting or replacement? First impressions are important, and it can be difficult to overcome a negative experience, but the more you do to go that extra mile, your customers and prospective customers will notice.
In addition to our famous boat stands and keel support, we also offer a full line of staging ladders, boat dollies, boat racks, engine handling products, boat lifting systems, shrink wrap accessories, and trailer components that you can use in your marine business. Whether you provide services and repairs to boat owners or if you simply provide storage solutions, our products and tools can help you to give your very best. Our patented foldable sailboat stands and stackable motorboat stands work to reduce clutter at your facility, helping you to stow everything away effectively without taking up too much storage space. This helps your facility to look good and provides additional room for your employees to work without tripping over stands and support equipment.
Contact Brownell at 508-758-3671 to place an order or to find an authorized dealer near you. Our products are sold and used around the globe, providing valuable solutions to marine professionals and individual boat owners. Use our online Boat Stand Selector tool, download a brochure, watch demonstration videos, or contact our team via our website at www.boatstands.com.