Is It Time to Upgrade Your Rusted, Damaged Motorboat Stands?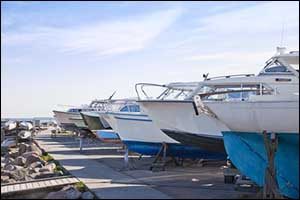 So you notice that your boat stands, jack stands, or trailer components have rusted or become damaged since you used them last. Is it safe to use this equipment to store your motorboat in the off-season? Sure, you could probably get by with some jack stand replacement parts or by upgrading just a few essential trailer components, but will your damaged motorboat stands make it through the winter? The truth is that any kind of damage to all types of boat stands means less integrity, safety, and protection for your motorboat when it is out of the water. If you are storing your boat at a boatyard, either indoors or outdoors, you won't be around to check on it regularly and make sure that the stands are holding up. Even if you store it on-site at your home in a garage or backyard, the chances are good that if your motorboat stands fail, serious damage will occur to your vessel.
What Size Stands Do You Need?
Once you make the decision to upgrade your motorboat stands, it pays to make a good investment in your future. The Brownell Boat Stand System is by far the most durable, long-lasting, and reputable types of boat stands that you can get for motorboats, sailboats, and personal watercraft on the market today. Made from quality American steel, Brownell products will provide you with many years of quality use and help you increase the return on your investment as a result. If you aren't sure what size of boat stands you need or how many you require for the exact make, model, and year of the vessel that you own, you can contact Brownell directly by calling 508-758-3671. For even better sizing, you should have measurements for the length, beam, draft, and weight/displacement of your boat to get best results.
The reason why it is important to get the right size of motorboat stands is that the right types of boat stands will be able to effectively hold and balance the weight of your boat to give it the support that it needs. Boat stands are designed to balance the boat, while keel stands are designed to take the weight of the boat. At Brownell, we independently test and certify our boat stands to ensure a working load of 20,000 pounds. The number of keel stands, keel benches, or blocks required to hold the weight of your boat will depend upon the specific measurements, make, model, year, and type of motorboat that you own. You can use our Boat Stand Selector online or speak with an authorized dealer to determine the size, type, and number of motorboat stands and keel stands required for your vessel.
Why Brownell is Best
While other brands use fragile castings and are very susceptible to breaking, Brownell Boat Stands, trailer components, and jack stand replacement parts are 100 percent American made and are made with high-quality, American tubular steel. Other industry brands use Asian steel, which has been proven to be inferior due to a wide variation in quality and can rust easily. Some types of boat stands have angle iron bases, which are not as strong and can become damaged easily. We also use a very skilled American labor force that takes pride in its work right here at our shop in Southeastern Massachusetts. We also use a solid steel ACME threaded rod, and our keel stands are durable and able to be adjusted and readjusted, even under a tremendous load.
When you compare the quality of Brownell boat stands and trailer components to other commercially available stands, you will notice that those other brands will often use a hollow shaft made with poor threads that can bind. Perhaps this is part of the reason why Brownell boat stands are the best-selling stands in the world, used by both professional and individual boat owners. All of our handles and nuts are made of solid steel to provide superior strength. We even use top quality marine-grade plywood pads to ensure long-lasting support. All of our quality boat stands are either dipped in our trademark traditional blue paint or are hot-dip galvanized to provide superior rust protection inside and outside of the tube.
Inspect Your Boat Stands Before Use
Every year before you use any types of boat stands, it is important to inspect them before using them. If your motorboat stands are faulty or if you need to make repairs using jack stand replacement parts, you will need to purchase new equipment or make repairs ahead of time. That being said, your trailer components, boat pads and other types of boat stands and equipment should all be checked before winterizing and storage. Even if you will only be storing your boat temporarily or using the stands while making repairs, it is important to make sure that your boat stands are in good working order.
Things to look for when inspecting your boat stands include:
rusted parts or areas on the equipment
bent, dented or twisted metal
bases that are rusted or damaged
pads that are warped, bent or peeling
paint that is chipped, peeling or otherwise exposing metal to the elements
Call Brownell Boat Stands at 508-758-3671 to find an authorized dealer near you to purchase motorboat stands and other types of boat stands, jack stand replacement parts, trailer components, and other essential equipment. All of our stands and keel benches are quick and easy to install and have a long service life due to the quality of materials and construction that we use.