Is It Time to Prepare Your Stored Boat for the Spring Season?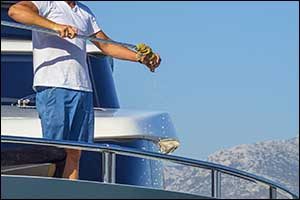 Depending on where you live, the time may be drawing near for you to start thinking about taking your boat out of storage. Preparing your sailboat or motorboat for the season can involve a lot of maintenance and preventive tasks. However, if you take time to do everything before the weather turns nice enough to get your boat on the water, you will be ready and won't have to delay your first trip of the year. If you haven't done so already, visit the boat yard or storage facility to check the status of your boat stands and keel support and order any jack stand replacement parts that may be needed.
Start by taking stock of all your equipment to make sure you have everything you need. Check your boat dollies to ensure that everything is clean and prepared for doing repairs, cleaning, and de-winterizing your vessel. Ensure that your boat lifting system, trailer wedge stands for boats, and the trailer itself are all ready for removing your boat from storage to the water. The more you can do to prepare all of your equipment and make sure that it is in good working order, the easier it will be to use it to get your boat ready for the season.
What is De-Winterizing?
Hopefully, you took the time to clean, repair, and winterize your boat before putting it away in storage at the end of the season. If you did, it's now time to de-winterize it before you can use it again. If you didn't do anything to prepare your vessel before putting it up on boat dollies or using wedge stands for boats, you might have more repairs and maintenance to do. However, for the sake of this article, we are going to assume that you took care of all the necessary preventive work at the end of last year's boating season. De-winterizing is taking the time to check, refill and reconnect everything that you removed during the winterizing process.
Some of the things that you need to do include:
Check the Battery – Hopefully, you removed the battery from your boat and stored it someplace safe during the off-season. Check your battery and refill it with fresh distilled water, if necessary. You can bring your battery to an auto supply store to get it checked for free to make sure it is still holding a strong charge, or you can purchase a battery tester so you'll have it on hand for future seasons. Clean and scrub the charge posts to remove any rust, dirt or debris that remains. Apply a good coat of lithium grease to protect the posts from erosion during use.
Check the Electronics – With the battery up and operational, you can now check all of the electronics for your boat. Check everything from the electrical equipment to specific knobs, switches, and essential technology. Make sure that you flip every single switch, so you'll know for sure that everything works. If you have any issues, make sure to take care of it right away so you won't lose any essential time out on the water when the weather warms up again.
Change the Oil – One of the most important tasks when de-winterizing a boat is to change the engine oil. Check the current levels and, if you did not change the oil during the winterization process, go ahead and do that now. Check, change and fill the outdrive oil as well, if needed. Check other fluids at this time, including coolant levels, power steering fluid, and inspect for any wear and tear in the fuel lines or leaks below the engine area. The more you can do before you get your boat out on the water, the better.
Inspect the Equipment – All of the equipment used for the safe handling, storage, and transport of your boat should be checked before you head to the marina. Take a look at your trailer and make sure that all wedge stands for boats and accessories are in good working order and free from rust or corrosion. Boat dollies should be checked before vessels are moved from boat stands and keel support to dollies for maintenance work. If jack stand replacement parts are needed for boat stands and other equipment, go ahead and order those now so they will be ready when you need them again.
Check the Safety Gear – Whether you moved everything off your boat to store inside your shed or garage, or kept everything on board inside the storage facility, now is a great time to inspect and check out all of your safety gear. Look at the expiration dates for fire extinguishers and replace any that are expired or close to being out of date. Go through all of your paperwork, including the owner's manual and registration, to make sure everything is in order. Test all lights, check for the proper number and type of flotation devices, and go through your first aid kit to make sure that every space is filled and all items are not expired. Take a look at signaling equipment as well, including whistles, flares, and horns.
Looking for boat stands and other top quality marine equipment? Contact Brownell by calling 508-758-3671 and speak with one of our team members. We can provide you with information about authorized dealers near you or help you to place your order. Call today and see for yourself why so many boat owners and marine professionals trust the Brownell name for everything from boat lifting system equipment to boat dollies, boat stands, and everything in between.