Invest in the Care of Your Vessel: Brownell Boat Stand System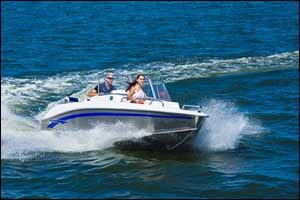 As a boat owner, you probably know all too well the financial reality of owning a boat. Whether you have a sailboat or a motorboat, the costs for maintaining, storing, and servicing your vessel can add up over time. However, every bit of money that you spend to invest in the ongoing care and maintenance of your boat will pay off big time in the many years that you will get to spend enjoying it out on the water. You have probably seen a lot of boat stands for sale or might have questions about how to choose a boat stand system that is right for your vessel. The Brownell Boat Stand System has the best reputation in the marine industry and is used by individual boat owners and commercial industry professionals alike. Get started by using our boat stand selector to find out the size, type, and the number of boat stands and keel support stands required for your vessel.
How to Choose a Boat Stand
There are many different types of boats. Similar to owning a car, finding the best equipment starts by knowing the make and model of your vessel. However, you also need to know the length and have information about any aftermarket alterations that might have been made that could require a little something extra. Our boat stand selector tool makes it easy to choose boat stands, keel support, and other equipment that will work best to protect your vessel while it is out of the water. The more you know about your boat, including the beam, draft, and any weight displacement, the easier it will be to make a smart choice.
The Brownell Boat Stand System is a balancing device that is used to support your boat properly when it is out of the water. You might have it on dry land to perform seasonal maintenance, repairs, or a specific service, but either way, you will need to ensure that it is protected from damage throughout the process. Boat stands for sale through Brownell, or an authorized dealer are used to keep your boat steady, while the keel stands, benches or blocks that you choose are what supports the weight. All of our keel stands and keel benches have been independently tested and certified to have a safe working load of 20,000 pounds each.
How Many Boat Stands Do I Need?
The number of boat stands required to provide proper protection will depend on the type of boat that you own. For example, it is recommended that you use a minimum of six stands for sailboats and other vessels that have keel construction, in addition to large keel stands or keel support below the front and back of the keel to ensure a stable base for the boat. Additional boat stands may be required for sailboats that still have the rigging on to provide extra stability during heavy winds. There are eight different sizes of boat stands for sailboats with up to a 13-foot draft. Sizes range between the SB4, which has 24-36 inches of height all the way up to the SB10.5, which as 123-140 inches of height.
When it comes to powerboats or motorboats, Brownell recommends that you use the boat stand selector to find boat stands for sale based on the size and type of your boat. The basic rule of thumb is to use at least four or more stands, adding two or more keel stands or wooden keel support blocks below the boat's centerline for additional support. It is important to use a Brownell keel stand or strong wood blocks that are effectively rated to hold the weight of your boat. Standard recommendations include four stands for less than 30 feet, six to eight stands for 30-45 feet, eight to twelve stands for 45-60 feet, and 12 or more stands for vessels that are 60 feet in length or more.
BONUS TIP – Powerboats that feature a sharp V bow construction should use one of the Brownell sailboat stands to provide them with extra stability. A good combination would be to use the SB (sailboat) stands for the bow and MB (motorboat) stands for the stern.
Boat Stands for Sale
If you are looking for the best place to purchase equipment and accessories from the Brownell Boat Stand System, just contact our team. While we are located in Mattapoisett, Massachusetts, there are authorized dealers all over the globe who can help you learn how to choose a boat stand and provide you with the options you need for your vessel. Give us a call at 508-758-3671 to speak with a knowledgeable representative. You can also visit our website to use our boat stand selector tool, download brochures, watch demonstration videos, or read up on the different types of boat stands for sale through Brownell.