Hydraulic Boat Lifting Systems: Safe Off-Season Boat Storage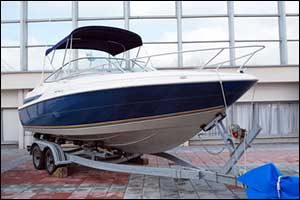 When it comes time to take care of your boat out of the water, it pays to have the right equipment for the job. Engine handling products, top quality marine industry stands and pads – these are all part of the well-known and respected Brownell Boat Stand System. However, if you need to remove a trailer from beneath your boat for storage, painting or repairs, you need to have access to reliable boat lifting systems. Consider the Brownell Hydraulic Boat Lifting System (BL3), which is the safest and fastest method available for this purpose. Made from heavy-duty American steel, this lift system features a hot dip galvanized base and upright.
Why Use Brownell Hydraulic Boat Lifting Systems
Most boat owners are well acquainted with the Brownell Boat Stand System, which has been recognized as the leading manufacturer of marine industry stands in the business. In fact, Brownell wrote the book on boat stands, as they revolutionized the way that boats were stored out of the water over 50 years ago. In addition to stackable and foldable boat stands, which make them easy to stack and store when not in-use, Brownell also makes a wide range of other products, including engine handling products, alternative storage dollies, and boat lifting systems. All are made right here in the USA by American craftsmen using top-quality American steel. What more could you want?
The good news is that Brownell keeps going, delivering products that are above and beyond your expectations. The Brownell Hydraulic Boat Lifting System (BL3) features jacks with a safe working load of 3,000 pounds (1,360 kilograms), meaning that the recommended boat lifting system of four jacks can work together to safely lift a whopping 12,000 pound (5,440 kilogram) vessel. The height of the jack base is adjustable, providing a lifting range of 21 to 50 inches (53-127 centimeters), with adjustable safety stops for both the jack and the lifting arm. Like all of the other products available in the Brownell Boat Stand System, the boat lifting systems are only available through local authorized dealers.
The Best Place to Store Your Boat
When it comes to winter storm safety and other safety issues regarding off-season storage, the best place to store your vessel is indoors. If you can gain access to a climate-controlled facility that features a back-up generator in case the utilities go out, that's even better. However, most boat owners just don't have this type of options in their local area. If you can't get climate-controlled indoor storage, consider other indoor storage options. If there is nothing available that is indoors, make sure to choose a boat yard that has a sturdy foundation for using marine industry stands to keep your boat up off the ground and secured during all types of weather.
Keeping a boat out on the water can mean sinking due to slow failure of underwater fittings that can become neglected in the off-season; storm damage due to rising and falling water levels, wind, and rain; blistering of the hull due to not being able to dry out properly; and theft, believe it or not, boats are more likely to be stolen out on the water than in a gated facility.
Wherever you decide to store your boat on shore, make sure that you provide adequate support and that you use all of the proper boat lifting systems, engine handling products, and other marine industry stands required to keep it safe. A lack of proper support can lead to hull distortion, which can cause breaks in bulkheads and stringers, as well as alignment issues with the engine. A combination of jack stands, blocks, and keep support, as well as boat stand pads and chains, can all be used as part of the Brownell Boat Stand System to properly store your boat. Once you get all of the proper components for your vessel, create a diagram and make sure to keep the plan handy for future storage.
Trust the Brownell Name
When it comes to finding the best way to store, transport, and lift your sailboat or power boat, you can trust the Brownell Boat Stand System and accessories. Our team has been the leading provider of marine industry stands for over 50 years and we have worked hard to develop engine handling products and boat lifting systems that stand up to that reputation. Give us a call at 508-758-3671 to find an authorized dealer near you or visit our website at www.boatstands.com to use our Boat Stand Selector tool to determine the best stands and options for your particular vessel.