Hurricanes & Boat Safety: Brownell Boat Stands and Products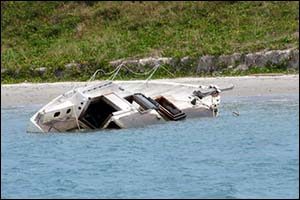 Meteorologists are predicting that the next decade or more will be more active with hurricanes than what we've seen in the last ten years. The best thing that you can do as a boat owner is to be prepared. You protect your boat when you take it out on the water and you protect it by purchasing the right types of boat stands and safety chains for boat stands when it is in storage. The best thing that you can do to prepare and protect your boat in any type of storm is to have a plan of action. Your action should include what to do if you are out on the water, what to do if you are docked in a marina, and what you should do when your boat is in on dry land.
Where to Keep Your Boat
The truth is that in a hurricane condition, even the most secure marina is very likely not going to be the best place for your boat. Safety will depend upon the location of the marina, the physical characteristics of the marina, the things that are around the marina, the layout and construction of the marina, piers and slips, as well as the people who are docked around you. Even though you might take great care to safely take care of your boat, the guy who is right next to you might not have been as well-prepared.
Tips for boats that are kept at a marina during hurricane season include:
talking with the dock master to find out if there is an established hurricane plan
find out if you will be required to evacuate, as some marinas are strict about this
understanding what your responsibilities are in the event that a storm approaches
know the area and determine if there are better alternatives, such as moving the boat to rivers, canals or waterways, which may (or may not) be more secure; you must move as far into the canal as you can to protect your boat from storm surge and still secure it with proper storm lines and anchors
Taking or Keeping Your Boat Ashore
Trailering your boat is an even better option if it is at all possible. Just as you choose a boat stand that is designed for your boat, make sure that you select trailers, trailers pads and other products from the Brownell Boat Stands line that will protect your boat during transport. For most boat owners, hauling their boat out of the water and transporting it a safe distance via trailer is the best possible option. Make sure the boat is well above the anticipated surge level for the storm. This can be difficult, however, if everyone else in the marina has the same plan and the storm is fast-moving.
The other option is to not store your boat in the marina at all, but keep it ashore when not in-use. This is not practical for all boats or locations, but it will prevent you from having to haul it out every time a storm hits or hope that you can secure it well enough to protect it from damage. Just make sure that the boat yard or storage that you use is well above the typical storm surge levels. Studies show that even if your boat tips off of the types of boat stands you use for storage, it will still suffer less damage than boats out on the water. Experts recommend using extra Brownell boat stands and jack stands, along with a layer of plywood between the jack stand pad and the hull to better distribute the weight. The stands should be chained together using safety chain for boat stands.
Before the Storm Comes
As a boat owner you need to be prepared even before the first storm of the season ever comes. Take time to learn the proper way to secure your boat, whether out on the water, in a marina, in a waterway, on a trailer or in a boat yard. Hurricane force winds put a lot of strain on the hardware of your boat. Take time to learn all you can about the different types of lines, chafe protectors, anchors and other tools that you can use to your advantage. As a boat owner, you need to study, ask questions, and learn all that you can about how to properly tie up and protect your boat in fair weather or foul. Just as you took the time to choose a boat stand that was right for your vessel, you should also take time before the storm to learn about everything else.
Practice your plan of action by taking your boat on a trial run to get it away from the water and to a safe place. Make sure to consider all possibilities in the event of a storm. Speak with other local boat owners about any issues with roads or transportation in the air under hurricane conditions. The more you can learn, the better. Time how long it takes you to get from the marina to your safe storage place. This can help you evaluate if it is worth it to even keep your boat at the marina or if you are better off storing it on Brownell boat stands and safety chain for boat stands ashore.
Protect Your Vessel With Brownell Boat Stands
To learn more about our products, including various types of boat stands, trailer pads, and safety chain for boat stands, give us a call at 508-758-3671 to find a dealer near you. You can also use our online search tool to help you choose a boat stand based on your unique needs. Visit our website for details.