Hurricane Preparation: Top Disaster Tips for Sailboat Owners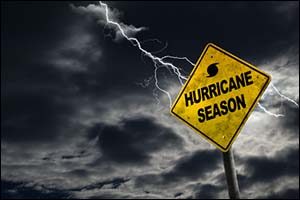 Protecting your vessel should be one of the top priorities of boat ownership. Boat owners invest a lot of time and money into caring for their vessels, so it only makes sense that they should also have a plan in place to help them take care of their sailboat in a weather emergency or disaster situation. The key to protecting your boat in a hurricane or extreme storm is to have a plan, be prepared, and take action as quickly as possible. Delaying even by a few minutes or hours could have devastating consequences. If your boat isn't properly secured and causes damage to another vessel, you could be held responsible.
The National Weather Service
As a boat owner, you should be well acquainted with the National Weather Service. This department will issue a 24-hour warning of an impending storm, providing boat owners with ample time to get their boats to a secure location. In some cases, such as a fast-moving storm, only a 12-hour warning will be provided. However, that is still more than enough time to get to your boat and have it moved. Your plan as a sailboat owner will be different from the plans made by motor boat owners, just as the type of boat lifting systems, boat stands and high quality TLC boat pads that you use for storage will also be different.
It is important for you to be well-informed about the necessary precautions that must be taken to secure your property, not just to prevent damage to your vessel, but also to prevent damage to other property. You should develop a plan of action to help secure yourself in the marina, if necessary, but also know what you need to do to remove your boat from the area so you can protect it more fully from the storm. The type of equipment that you will need, such as boat lifting systems, galvanized boat stands, keel stands and a trailer, should also be considered, purchased and prepared in advance. You don't want to be scrambling around in an area where a storm is about to hit trying to get the things you need to protect your boat.
Other things to take into consideration for hurricane preparation:
find out about requirements at your marina regarding removal of vessels
learn how to properly secure your vessel in the marina, if permitted
investigate various boat stands, boat lifting systems, high quality TLC boat pads and, of course, galvanized boat stands, jacks and keel stands, to get the right type
check out accessibility in the area, including the depth of the water or any bridges and obstructions that you should be aware of in order to secure your boat or drop anchor; know that in Florida drawbridges will not open for boats during evacuation
figure out how long it will take to get your boat out of the water, what you will need to accomplish it, and whether you will require any assistance
devise a method for protecting your valuable equipment on the boat, including electronics and personal effects
make sure that anything you can't remove is tied down, including booms, wheels and tillers; remove anything that you can, including cushions, sails, canvas and Biminis
learn how to seal off all openings to make your vessel water tight and shut down your electrical system
keep all of your documents in a single, water tight and air tight place off of your boat, including your insurance policies, recent photos of your boat, registration, marina agreements, storage agreements, equipment inventory, and contact info for local authorities, including the Coast Guard and National Weather Service
Get Out of the Area
Whether your vessel is on the water, secured at the marina, dry docked on land, or kept on a trailer, make sure that you, your family, friends and loved ones all get out of the area ahead of the storm. Never stay on board your vessel during a hurricane. Once you have everything protected and locked down, it's time to leave. Stay in an area that is protected and safe. Take care of your loved ones, home, and other personal property, while staying abreast of news regarding the storm via television or radio broadcasts. Check the local weather advisory about the hurricane, so you will know when it has passed and is safe.
Brownell Boat Stands & Boat Lifting Systems
As you make preparations to protect your boat in the storm, take some time to check out the Brownell Boat Stand System. In addition to high quality painted, coated and galvanized boat stands, we also carry boat lifting systems, storage systems, high quality TLC boat pads and more. Visit our website and use our Boat Stand Selector tool to find out what type of stands your vessel would require and the recommended number of each type. Give us a call at 508-758-3671 to find an authorized dealer near you.