How to Winterize a Pontoon: Store on Galvanized Boat Stands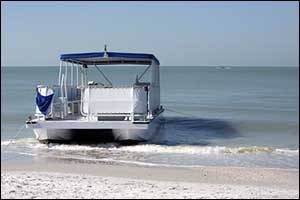 Depending on where you live or keep your pontoon boat, you will need to prepare it for the winter. While most articles on winterizing talk about power boats or even sailboats, it is just as important to take care of your pontoon to make sure that it is ready to use again when the snow and ice melt away in the spring. If you aren't confident in your skills, you can always hire a professional to winterize your boat for you, but just in case you are ready to try it yourself, here are a few tips to get you started.
Brownell Boat Stands has a wide range of tools and equipment that can be used for performing maintenance and winterizing services on your pontoon. Depending on the size of your vessel, you can use a personal watercraft dolly or the more specialized steel pontoon boat dolly. You can purchase dollies, galvanized boat stands and other tools from local authorized dealers. Find out which tools will best suit your needs based on the size and type of vessel via the Brownell website's Boat Stand Selector. If you know where to buy boat stands in your area, you will also find everything else you need for winterizing your pontoon.
STEP ONE: Clean Your Boat
The first step in preparing your boat for the winter season is to clean it completely both inside and out. You don't want to leave anything on the boat when you put it into storage. Once everything is cleaned and dried, you can apply a polish to the exterior to help provide some extra protection from dirt and corrosive materials.
STEP TWO: Remove All Equipment
Don't leave anything on your boat. That means remove all of your fishing equipment, flotation devices, skis, tubes, first aid kit and anything else you regularly keep on board. All technology should be removed as well, including fish finders, radios and GPS.
STEP THREE: Prep the Engine
Rather than spend a lot of time on an area that the manufacturer's instructions will cover for your particular engine, just know that it is important to follow the guidelines specifically to make sure nothing happens to the engine during the off-season. Do the usual things, make sure to fill the gas tank to prevent condensation, replace the oil, change the oil filters and dispose of everything properly.
STEP FOUR: Cover the Pontoon
Whether you decide to store your pontoon atop galvanized boat stands or plan on using a steel pontoon boat dolly, you will still need to cover your pontoon to protect it. Even if you are storing it indoors, you should cover it up to protect it from dust, dirt and damage. If you know where to buy boat stands in the local area, take a look at the boat covers available at your local dealer, as well as any personal watercraft dolly or other equipment that you might need.
Options for covering a pontoon include:
pontoon cover – this should be the right size for your boat and properly fitted to cover it completely; check the manufacturer's recommendations to find the best cover for your particular vessel
boat tarp – a generic boat tarp can also be used to protect your pontoon, however it won't be as beneficial as a perfectly fitted cover; make sure it is the right size to completely cover your boat and that you have it secured properly for storage
shrink wrap – by far the best protection for any vessel is to have it shrink wrapped; boats that are shrink wrapped can even withstand a lot of rain and snow without moisture getting inside
STEP FIVE: Properly Store the Boat
Whether you store it indoors or outdoors, just make sure that you properly store your pontoon. Use galvanized boat stands or a steel pontoon boat dolly – even a personal watercraft dolly or trailer will do, depending on the size of your vessel.
Trust Brownell Boat Stands for Boat Storage
If you need to know where to buy boat stands and steel pontoon boat dolly equipment near you, contact Brownell by calling 508-758-3671. We can help you find an authorized dealer and can even help you figure out which piece of equipment would work best for protecting your pontoon during the off-season.