How to Winterize a Boat: The 10 Best Tips for Making It Easy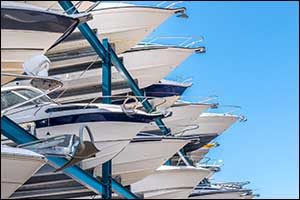 Looking for an easier way to winterize your boat? Whether you are a new boat owner or a seasoned pro, there's always something new to learn when it comes to winterizing a boat motor or learning about the best boat racks and galvanized boat stands for storage. If you already know how to winterize a boat, then some of these tips might already be familiar. However, for those who are new to boat ownership or have not had to winterize their boat in the past, these tips could help you to make short work of it all.
Tip #1 – Hire a Pro
Sure, this may seem like a no-brainer, but you might be surprised to find out that many boat owners were not aware that they could pay someone to provide this service. The average cost for winterizing a boat motor and vessel is approximately $300. A little less for smaller vessels and a lot more for larger yachts, but for the average boat owner you should pay around $300 to get the job done.
Tip #2 – Get Your Supplies Together
Before you get started on winterizing a boat motor, make sure that you have all of the supplies you will need ready ahead of time. You can start doing this over the summer, picking up fogging oil, fuel stabilizer, winterizer flushing system tools, and other items as you see them at the marine store. Make sure to keep everything in a safe location away from pets, animals, and kids. You will want to have everything ready-to-go on winterizing day.
Tip #3 – Get the Right Equipment
When it comes time to winterize, maintain, paint, or repair your boat, you want to have the best galvanized boat stands that are designed for your vessel. The Brownell Boat Stand System can help you get the proper keel support and boat stand balance required for the make, model, and size of your boat. Motorboats, sailboats, personal watercraft, pontoon boats, yachts, and other vessels can all be serviced and stored on quality Brownell equipment.
Tip #4 – Create a Boat Stand Map
Knowing how and where to place boat stands is half the battle. Create a map that you can use for quick referencing when the time comes to take your boat out of the water. You can see sample maps and read details about the type, number, and placement of galvanized boat stands on the Brownell Boat Stands website. You can also check with the owner's manual to see the manufacturer's recommendations for using boat stands and boat racks for maintenance and off-season storage.
Tip #5 – When to Perform Oil Changes
Protect your engine while saving time and money by performing your oil change when the engine is warm. This approach can help to flush out the old oil even better while making sure that the new oil thoroughly coats all of the components within the engine. This helps to protect the engine over the winter months, saving you loads in time, money, repairs, and replacements.
Tip #6 – Know When to Avoid Special Marine-Only Products
Some products are designed specifically for the marine industry, while others are only marketed as such to increase the price for consumers. One example of this is marine specialty antifreeze concentrate. The cost can be considerably higher for so-called marine grade antifreeze than for other performance quality antifreeze, such as RV antifreeze concentrate.
Tip #7 – Get the Right Boat Cover
Owning a boat is a significant investment, but there are some items that will help to save you money over time. Purchase a custom fabric cover for your boat instead of using tarps that barely cover or investing in annual shrink wrapping services. The money you pay upfront will pay off over the years in reduced fees for shrink wrapping, replacing tarps, or having to make repairs due to inadequate coverage.
Tip #8 – Store Batteries in a Different Location
Entirely disconnect and remove all batteries when you learn how to winterize a boat. Store them in a warm and safe place so you won't have to replace them when you de-winterize your boat in the spring. This can save hundreds of dollars each year, depending on the number of batteries required by your vessel.
Tip #9 – Don't Skip Steps
Just like the map that you create for proper use of galvanized boat stands or boat racks, make sure to keep a full checklist of steps for winterizing a boat motor and vessel. Never skip a step – even if it doesn't make sense. An improperly prepped boat could suffer catastrophic damage, including a damaged engine, corroded electrical components, a crusted hull, or mildew and mold issues.
Tip #10 – Take the Boat Out One Last Time
Before you haul your boat out of the water, make sure to take it out one last time. You can use this opportunity to check for any issues that might need to be repaired during the off-season. Inspect everything and ensure that it is working properly before you start winterizing a boat motor or take the steps on how to winterize a boat.
Trust Brownell for Stands and Boat Racks
Get the best quality galvanized boat stands in the business when you purchase equipment from the Brownell Boat Stand System line. Choose from a variety of keel support, boat stands, stackable stands, and boat racks to provide proper care and support for your vessel. Give us a call at 508-758-3671 to speak with a representative or to find an authorized dealer near you.