How to Winterize a Boat Motor: Top Engine Handling Products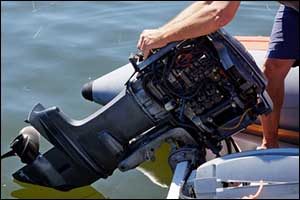 It's almost that time of year again. If you live in an area where the temperature falls below freezing and you need to take your boat out of the water for off-season storage, you know that winterizing is an essential step in ongoing boat maintenance. The cost to winterize a boat is nothing compared to what it would take to repair the damage that can come from skipping this important end-of-season step. If there is even a drop of water inside your engine or gear case, you could end up with a cracked block or housing. The repairs for this type of damage can be in the thousands.
Engine handling products are available through Brownell, the same reputable company that provides you with high quality TLC boat pads, boat stands, keel support, and other essential equipment. Make sure to use our full line of independently certified products made in the USA with top quality American steel for best results. From single-unit stern drive racks to multi-unit racks for multiple engine storage and outboard racks and dollies for small and large engines, Brownell has everything you need when you want to learn how to winterize a boat motor and store it properly for the winter season.
Check the Manual
The first thing you should do before trying out any engine handling products or figuring out the cost to winterize a boat is to look at the owner's manual for winterizing instructions. The manufacturer very likely has a list of recommendations and perhaps even a step-by-step guide to help you to protect your boat during the winter months. However, if you do not have a manual and are unable to obtain one online or by contacting the manufacturer direct, you can follow a generic guide like the one listed in the next section. It is important to use discretion with any type of how-to guide, as there may be some steps that do not apply to your boat that should be skipped. However, when it comes to how to winterize a boat motor and, in particular, an outboard motor, the guide below should do the trick.
Some of the items that you will need to winterize an outboard motor include:
fogging oil
cleaning materials – cloth, brushes, etc.
safe and level space to keep your boat during winterization
engine handling products for cleaning and storage
access to clean water for flushing
Flushing the Engine
Before you can do anything else, you need to flush out the engine. You can do this either by placing the outboard into a tank that is filled with clean water. Just run the motor until it flushes out all of the existing water. This is important for both fresh and saltwater vessels. You can also use a flushing attachment to flush out the engine before starting the rest of the winterization services.
Empty Fuel Lines
The next step is to make sure that all fuel lines and carburetors are emptied. You should do this while the engine is running. Disconnect the fuel line from the engine, and when the motor dies, all of the fuel delivery components will be empty. What this step does is to prevent fuel from gumming up the engine during the winter season. Stagnant gasoline can cause lines, jets, and injectors to become clogged if they are not properly cleared.
Make sure to fog the carburetor intakes before the engine runs out of fuel. Spray the fogging oil into the carburetor to protect the internal surfaces and cylinders during storage. The best time to do this is just before the engine runs out of fuel. You will hear it begin to run rough. This is when you should give the carburetor a shot of fogging oil to make sure that all of the internal surfaces get coated thoroughly.
Drain and Lubricate
Start by removing the motor from the flush tank and let all of the water drain out of the pickup. Check for any drain plugs so you can also empty the immediate housing and the powerhead. You can crank the motor a couple of times by hand to empty the water pump, if necessary. Spray fogging oil into the holes where the spark plugs go to further coat the interior surfaces of the cylinders. Drain the fuel tank and supply lines. It is important to leave the gasoline tanks and lines empty during the winter. Store the engine upright using Brownell engine handling products to prevent water from draining improperly.
Lubricate all of the pivots and visible gears to protect them from winter weather. You can use oil or grease, depending on the instructions in your owner's manual. Clean and lubricate the propeller shaft as well. If your propellers require servicing, take time to do it over the winter so you will be ready to get back out on the water right away. When done carefully, the cost to winterize a boat motor is more about the time that you spend and the attention to detail that you provide than anything else. Investing in high quality TLC boat pads to protect your boat on dry land and getting quality engine handling products to drain, service, and store your motor will pay off for many years to come.
For more tips, information, and our world-famous Brownell Boat Stand System, visit our website to see additional details that can help you learn how to winterize a boat motor. See our full product list of engine handling products, boat stands, keel support, high quality TLC boat pads, and much more on our website or give us a call at 508-758-3671 to find an authorized dealer near you.