How to Use Engine Handling Products and Stands for Motorboats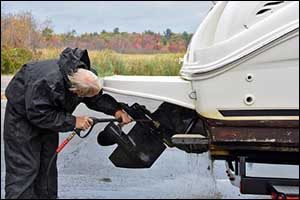 When the time comes to take care of your motorboat, the equipment that you use matters. You wouldn't just use any piece of wood, old ladders, or bricks to prop up the hull of your boat over a long winter; you would use top quality boat stands designed and strategically placed to provide the best support and storage for your vessel. Motorboat stands differ from sailboat stands, so it is important to know what you need and what you are getting. The folks at Brownell Boat Stands also provide other essential products that you can use to care for your motorboat when it is out of the water, including trailer components, TLC pads, and engine handling products. Outboard storage racks can be used for small outboard motors all the way up to 150 HP engines, depending on your needs.
Develop a Cleaning Routine
To protect your outboard motors, the best thing you can do is to develop a regular cleaning routine. This should be done every time you bring your boat in to prevent damage, corrosion, the build-up of salt, and other issues related to the type of boating that you do and your location. An engine can get really grimy due to watermarks and residue from oil. As part of your regular cleaning, spray the outside of the motor down using a fresh water hose or a power washer. Mild dish soap and a good brush should be used to give it a basic cleaning.
BONUS TIP: If there are stubborn spots of oil, grease, and other debris that won't come off, you can use a commercial degreaser product. Just spray it on and clean it off with a coarse sponge or a soft bristle brush, according to the manufacturer's recommendations. If you do use any products or detergents, you need to rinse it thoroughly and wipe it dry using a soft towel.
Winterizing Your Engines
A more thorough cleaning and preparation should be provided for long-term storage, either during the winter months or if you will be taking some time off from the water during the season. You can either have this part done by a professional or you can learn to do it yourself. Again, it all depends on your knowledge, experience, and capabilities. The engine should be taken off of the vessel and protected using engine handling products, such as an outboard storage rack. Accumulated dirt, grease and grime can be removed using a quality engine cleaner and protectant product and a cleaning cloth. The protectant is important to add extra protection to engine parts, shielding them from moisture during storage.
BONUS TIP: Always follow the recommendations of the manufacturer carefully to prevent accidentally causing any damage during cleaning. While you are careful to place your boat on top quality boat stands, specifically motorboat stands for best support; you also need to make sure you are using the right engine handling products and cleaning products for your outboard motors.
Selecting Engine Handling Products: Easy as 1, 2, 3
Brownell Boat Stands has a full line of engine handling products that can be used to properly clean, care for, and even store your outboard motors and engines. Brownell has earned a solid reputation in the marine industry for providing durable, reliable products. From top quality boat stands, designed for personal watercraft, sailboats, motorboats, and other types of vessels, to trailer components, high quality TLC pads, shrink wrap accessories, boat lifting systems, and other accessories, you can count on Brownell Boat Stands to provide you with the equipment you need to care for your boat properly.
Outboard Storage Rack 1 (OBR1) – Made from heavy duty steel construction right here in America, the OBR1 features the traditional Brownell painted blue finish to provide long-lasting durability and added protection. An excellent choice for engines up to 150 HP, this versatile system will safely store your outboard motors with up to a 2,000-pound capacity. It features five-inch locking swivel casters for easy maneuverability and strength. The dimensions are 53 x 24 x 45 inches. Made with American Steel.
Outboard Storage Rack 2 (OBR2) – A safe solution for moving large outboard motors around the shop, storage area or showroom, providing a 1,200-pound capacity and a stable footprint. Great for all types of large engines, including V4, V6, and V8. Precut mounting plates allow for quick and simple mounting. Ample hanging points and an included storage tray help to keep all engine parts and rigging together in a single location, while still providing flexibility to move it from place to place. Easy to move, thanks to the ergonomic handles and a combination of both stationary and swivel casters, complete with locks for ongoing maintenance or long-term storage.
Outboard Storage Rack 3 (OBR3) – An excellent choice for small to mid-range outboard motors, either at home in the shop, at the storage facility, or even in a showroom. Can hold up to 400 pounds and is perfect for small to mid-range 4-cylinder engines up to 115 HP. Clamp-on engines can be mounted to the rectangular mounting bar, or the bar can be drilled to fit your specific bolt-on pattern. Similar to the OBR2, this model also features the ergonomic handles and combination stationary and swivel casters for safe and easy movement. Utilize the caster locks during maintenance work or keep the unit in place during long-term storage.
Find Brownell Boat Stands Products Near You
If you are interested in learning more about our engine handling products or top quality boat stands, visit the Brownell Boat Stands website at www.boatstands.com or give us a call at 1-508-758-3671. We can help you find an authorized dealer near you for any of our motorboat stands, outboard storage racks or other marine industry equipment and accessories.