How to Use Brownell Boat Stands to Maximize Storage Strategies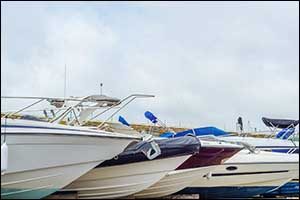 Operating a boatyard or marina can be a real challenge. It seems as if there is never enough space to meet customer demands. As a marine storage facility owner, it is in your best interest to find a safe and simple solution that will allow you to maximize the existing space at your yard to effectively and efficiently store boats for your customers. Many boatyard owners are switching away from the use of cradles, which are heavy, cumbersome, and can take up a lot of space, to Brownell boat stands. Our stackable and nested boat stands can be quickly applied to provide stability to customer's vessels and then be quickly stacked and stowed away into storage when not in use.
Why Choose Brownell?
When it comes to boat racks, there are quite a few manufacturers around to choose from in the marine industry. While some may appear to save you money initially through lower costs, they will ultimately cost you in frequent replacement due to poor quality materials. Brownell boat stands and keel support are made from high-quality American steel. We use solid steel, ACME threaded rod for our adjustable stands, which can be adjusted even under a tremendous load. Other brands have hollow shafts and low-quality threads that bind. There are many reasons why Brownell boat stands are the top-selling product in the marine industry, used by both individual boat owners and experienced professionals.
American steel is important. Many other brands rely on Asian steel, which can vary widely in quality and is more likely to rust at a much faster rate. The bases of these other brands are often made of angle iron, which is not as strong and can become damaged easily, requiring faster replacement rates. At Brownell, we use a skilled American labor force that takes pride in its work. Even all of our handles and nuts are made of solid American steel for superior strength and durability. Our brands have been independently certified to provide a safe working load of 20,000 pounds. All of our boat stands, keel support stands and benches, boat racks, and other products are either hot dip galvanized or painted in a traditional blue to provide superior rust protection in the harshest marine environments.
What is Keel Support?
It is important to understand that Brownell boat stands are designed to provide balance and stability, not to carry the weight of the vessel. Keel support, which can come in the form of stands, benches, and wooden or galvanized steel blocks, is designed to support the weight. Keel stands are a very fast, labor-saving alternative to wood blocks, making it easier to install and set into place. Brownell keel stands and benches are all made in the USA using 100 percent American tubular steel. Designed to last for many years, our keel stands and benches will not deteriorate over time like wood. Consider our new galvanized steel blocks as yet another alternative for supporting the weight of a vessel.
It is recommended that you use one keel stand for every 10,000 pounds of vessel weight while ensuring that you use at least a minimum of two keel stands per vessel. Check the manufacturer's recommendations for using nested boat stands and keel support for both sailboats and motorboats for best results. However, if the information on support requirements cannot be located, visit the Brownell boat stands website to see details on the proper use of boat stands and keel support based on the size and type of the vessel. The boat stand selector tool is also available via our website at www.boatstands.com and can help you determine the number, size, and type of stands required to provide the best possible support.
How Boat Stands Maximize Space
The tripod design of Brownell boat stands, which have been in use now by marine professionals for over 50 years, ensures top stability on all types of yard surfaces. Our stands and keel support options can be adjusted to meet the needs of many different hull shapes and vessel lengths, which means that they can be used many times over throughout the years to increase the return on your investment. All of our nested boat stands can be used with our popular TLC boat pads to protect a wide range of coatings for the vessels that you store. Boat racks can also be used, depending on the vessel, to provide a stable footprint and allow for more boats to be stored more closely together. Choose the best Brownell equipment based on the needs of your customers and the amount of space that you have available for storage.
To learn more about the Brownell Boat Stand System and line of top-quality marine products, give us a call at 508-758-3671. Our team can answer any questions that you might have about our sailboat and motorboat stands, small craft storage options, nested boat stands, keel support, and boat racks. We can also help you to find an authorized dealer near you or provide you with ordering assistance for your boatyard, marina or other professional storage facilities.