How to Use a Small Boat Trailer Kit for Hauling Motorboats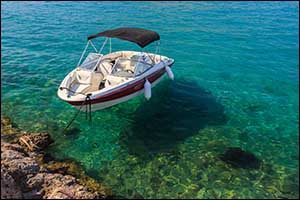 Did you know that you can use Brownell motorboat stands and trailer components to create your own custom small boat trailer? Brownell has a full line of trailer wedge stands and pads that can be used to make your own small boat trailer kit according to your boat's specifications and requirements. Choose from a wide range of different sizes for everything from the stands to pads, keel support, and other components in our boat stand selector tool to truly customize your boat storage and hauling experience.
If you own a smaller vessel, you are probably well aware that there aren't a lot of pre-built products and equipment designed for transporting and storing your boat. Smaller vessels still require the same about of care and protection that larger boats do, just on a smaller scale. That's why Brownell created this full line of trailer wedge stands and pads that can be used to create a personalized small boat trailer kit. The more you look into the innovative products available at Brownell, the more you realize that we are about more than just sailboat and motorboat stands.
Getting Started: What You Need
To begin, you will want to start gathering together all of the trailer components required to build a custom cradle to keep your boat steady and in place. All Brownell products and components are made from top quality American steel by our team of skilled craftsmen right here in the USA. You can depend on the materials, manufacturing methods, and value that you get from our boat wedges and other trailer components. One of the most popular products is the Brownell Wedge Stand (W2), which is the critical part in your kit. It is protected with the traditional painted blue finish to provide long-lasting durability, and it is fully adjustable from 15 to 27-inches, depending on your needs.
For slightly larger vessels, you can add the Brownell Wedge Stand (W1) to your small boat trailer kit, which is adjustable between 22 and 40-inches. Each of our wedge stands feature two usable positions and work with an ACME steel threaded rod for adjusting. Our wedge stands are also designed to be mounted to a cross member, bolted down to a trailer frame, or fastened to a wooden beam. Use them to create a custom cradle on your trailer and then further customize with other trailer components, including our popular TLC boat pads. Use the boat stand selector for sizing and other products that you can use with your new cradle or motorboat stands for optimal protection whenever your boat is out of the water.
The TLC Boat Pad Difference
If you start looking around at other boats being hauled on the highway and check out the various products and trailer components that are used, you will notice a wide range of padding to protect the hull from damage during transportation. With the Brownell TLC boat pads, you don't have to use indoor-outdoor marine carpet or other materials to protect your vessel. If you include our patented boat pads in with your custom small boat trailer kit, your boat will get all of the "tender loving care" necessary to keep it safe on the road. In addition, our adjustable trailer pads are designed to provide proper drainage to eliminate any moisture from being trapped in between to cause damage to the hull.
In addition to our wedge stands, the TLC boat pads can be mounted to any of our adjustable motorboat stands, keel stands, boat dollies, and other products in the boat stand selector, depending on your needs. The major difference between our pads and inferior products is that the TPE surface is designed to also protect the delicate finish of your boat. It can be used with all types of vessels, including gel coatings, epoxy coatings, and fine-crafted wooden boats. Even the fasteners have been designed with a purpose and are included with every pad that we sell. Replace the standard plywood pads in any of our motorboat stands with our TLC boat pads, which are sold in either 16-inch, 23-inch, and 27-inch options.
At Brownell Quality Matters
For more than 50 years, the Brownell name has represented top quality marine products and equipment. Our sailboat and motorboat stands, trailer components, TLC boat pads, and other products are used across the country and around the globe. Use our boat stand selector tool online to find all of the products you need to safely and effectively store your boat whenever it is out of the water. Create your own custom small boat trailer kit with any of the top quality wedge stands and components available on our website. Give us a call at 508-758-3671 to find an authorized dealer near you.