How-to Tips for Using Motor Boat Stands to Store Power Boats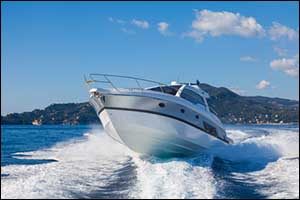 When it comes to finding the best solutions to store your power boat or keep it safe while it is out of the water, many boat owners trust the products available through the Brownell Boat Stand System. Not only do they make trusted, and reliable products that are crafted from American steel by American craftsmen, but they also take pride in delivering motorboat stands, stackable boat stands, adjustable trailer pads, and other accessories that feature consistent quality control.
Brownell has established a solid reputation within the global marine industry, and is used by professionals all over the world, due to their top quality boat stands. Choose from traditional painted blue finishes, signature orange painted finishes, and hot dip galvanized boat stands. Not sure what you need? Check out the boat stand selector on the website at www.boatstands.com or contact an authorized dealer near you.
Motorboat Stand Features
Choosing the best stands for your specific vessel and needs can be challenging at first. There are a lot of options, all of which are designed to provide you with the best possible support capabilities to protect your boat when it is out of the water. Custom tops and adjustable trailer pads help you create a safe solution for transporting your boat to and from the water. Stackable boat stands are a great solution for garage storage or boat yard storage when space is at a premium.
Motorboat stands from Brownell range between 18-inches for the MB-4, which is a vertical base motorboat stand that adjusts from 18 and 25-inches (46-64 centimeters), and the MB-X9 series, which is a much larger vertical base motorboat stand that adjusts from 116 to 132-inches (295-335 centimeters). Each of these stackable boat stands features a high quality ACME threaded center rod with a 20-degree swivel top. The design of these stands was created to allow for smooth adjustments even under heavy loads. The unique stackable design of these stands allows for convenient storage when they are not being used.
Tips for Using Brownell Boat Stands
When it comes to choosing and using motorboat stands for your power boat, it goes without saying that it is important to follow the recommendations of both the manufacturer for the vessel and the experts at Brownell. Regardless of the size of your boat, Brownell recommends that you use a minimum of four stands. This provides proper support and stability for short or long-term storage, repairs, and renovations. Additional support below the vessel's center line, should be provided with two or more keel stands or wooden keel support blocks. The placement of the keel stand for the stern should be below the location of the engine to help reduce the pressure placed on the hull.
Placement of the motorboat stands for storage purposes should be set as wide as possible in order to provide the best-possible stability. If you have a power boat that features a deep V bow construction, Brownell recommends that you use SB or sailboat stands from the Brownell Boat Stand System at the bow. Add a security chain in the small groove and then tighten it by gently pulling the stand backwards. It is important that you never tie a boat cover onto the stackable boat stands, as a heavy wind might pull them both away, causing damage to your vessel. The cover should always be independently tied apart from the stands.
Size Matters for Boat Stands
The number of stands that you use beyond the minimum recommendation of four stands per power boat, depends on the size and type of vessel that you own. For example, a power boat that is longer than 33 feet should add an extra two stands for additional support. Brownell sells several different sizes of boat stands that are designed for power boats, with heights up to seven feet. While the length of the vessel is important, the height from the ground to where the angle of the hull changes from the vertical to the horizontal is also crucial to ensure that you are using the right size of motorboat stands.
While each vessel's needs vary, the standard number of required stands is:
minimum four stands for vessels less than 30 feet in length
six to eight stands for vessels between 30-40 feet in length
eight to twelve stands for vessels between 45-60 feet in length
minimum twelve or more stands for vessels more than 60 feet in length
Use the Online Boat Stand Selector
For more tips on the number, size, and type of motorboat stands to use for your power boat, visit the Brownell Boat Stands website and use the boat stand selector tool. You can contact Brownell by calling 508-758-3671 to speak with a representative or to find an authorized dealer location near you. Make sure to ask about adjustable trailer pads, TLC boat pads, stackable boat stands, chains, keel support, and any other products or accessories that you require.