How to Shrink-Wrap and Winterize Your Boat Using Boat Stands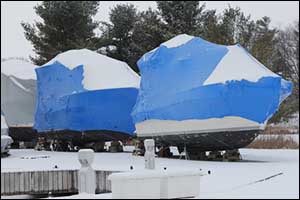 When it comes to protecting your vessel in the off-season, there is no better method than shrink-wrapping. Sure, you could buy a custom tarp that is designed specifically for the make and model of your vessel or just strap a basic tarp on top and hope for the best, but for real protection that will last through anything Mother Nature can throw at your boat, you'll want to opt for shrink-wrapping. Performed after the winterizing process is complete, it is important for boat owners to make sure that everything gets done properly and that everything dries out thoroughly before it is shrink-wrapped.
Why Shrink Wrapping is Best
Everyone thinks that their method for boat protection in the off-season is best, but it pays to hear the reasons why someone feels the way that they do. It is important to make the best choices possible in tools and equipment for your boat, including boat lifting systems, the marine industry stands, Brownell engine racks, and high quality TLC boat pads, to protect your vessel every step of the way. The primary reason why people will shrink-wrap and cover a boat is to protect it from snow, ice, rain, and UV light exposure. While blue tarps that are commonly used at boat yards and in other outdoor storage can provide similar protection, they will often leak. Shrink wrapping prevents the build-up of snow and ice, which can cause the tarp to collapse. When you get it done by a professional, you can store it and forget it without worrying.
What is Shrink Wrap?
For the most part, the shrink-wrap materials that are used for marine vessels today are made from a polyethylene material that has a UV inhibitor. The product is designed to shrink when it is heated with a propane torch to create a seal that is perfectly tight. Shrink wrapping is much more effective than wrapping a boat using a tarp and some ropes. It is designed to keep snow, ice, water, and moisture out of your boat, remaining strong and secure throughout the winter season. However, shrink wrapping is much more expensive than simply covering your boat with a custom cover or tarp on marine industry stands. Small boats can cost a couple of hundred dollars, and large boats can cost a thousand or more. The benefits associated with shrink wrapping outweigh the costs, providing long-lasting, durable results that will get you through even the worst winter.
What Can Be Shrink Wrapped?
While it is generally accepted that sailboats, motorboats, personal watercraft, pontoons, and other types of marine vessels can be shrink wrapped, the experts regularly remind boat owners that not everything should be shrink wrapped. For example, an outboard motor should not be shrink wrapped. While some shrink wrapping services will wrap right over the outboard motor, most agree that tight plastic and even tight tarp covers can increase condensation formation under the cowl, resulting in corrosion or electrical issues. Your best bet is to place the outboard motor on Brownell engine racks and store it in a temperature controlled storage facility, your attached home garage, or a secure storage facility at the boat yard designed for this purpose. If you do wrap the motor for any reason, make sure that air can circulate up underneath the wrap and that there is a vent provided in the back near the cowl to prevent condensation and related issues.
Protecting Your Investment
When you start pricing all of the things that need to be done to properly winterize and store your boat, including proper marine industry stands, boat lifting systems, high quality TLC boat pads, shrink wrapping, storage fees, and Brownell engine racks, it can be a bit overwhelming. However, many of these purchases will be used multiple times, such as the marine industry stands. They can be used during the off-season while your boat is in storage and then be used again when you clean, maintain and repair your boat throughout the year. Stackable boat stands are very popular because they can be easily stored without taking up too much space when not in use. Brownell engine racks can be used for multiple purposes, so they are a good investment as well. Just think of how much it would cost to replace or make extensive repairs to your boat if you don't protect it as you should this winter and you'll immediately see the benefits associated with investing in quality tools and equipment.
Brownell Marine Equipment
Make sure to ask about our line of boat lifting systems, including the BL3 Hydraulic Boat Lifting System, the BLS Foldable Boat Lift System, and our manual and trailer mounted boat lifting systems. Brownell also sells a heavy duty shrink wrap dolly (SWD1), which is great for busy boat yards that want to offer this premium service or for boat owners who have multiple boats that they may want to shrink wrap on their own after performing winterizing services. To learn more about the tools and equipment that we sell or to find an authorized dealer for our marine industry stands near you, give us a call at 508-758-3671.