How to Protect a Boat While in Storage: Best Cover Solutions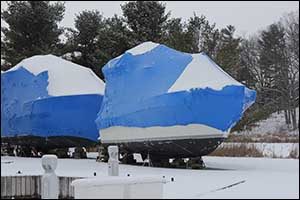 While we talk a lot about getting the best boat cover to protect your vessel in the off-season, sometimes it can be expensive or difficult to find a custom solution. Some manufacturers provide quality boat covers for their customers to purchase, but others may not. Older boats may not have any current options available, so it's up to the boat owner to find something that will work. Heavy duty shrink wrap film is often the best solution for boat owners. It is frequently offered at boatyards to help protect a boat while in storage. Professional marinas and storage yards will often provide shrink wrap services, using large-scale rolls of polyethylene on a shrink wrap film dolly and other shrink wrap accessories to get quality coverage for their customers.
What is Shrink Wrap?
If you are not familiar with this type of boat cover solution, shrink wrapping your boat is kind of like what you do when you use plastic wrap to cover leftovers in the kitchen. Professional grade shrink wrap is a layer of polyethylene material that is cut by installers to fit over the top of your boat. It also protects around the outside area of your boat, providing UV protection from the sun's rays and coverage to prevent damage from wind, rain, snow, ice, and other weather conditions. The polyethylene shrinks when heat is applied to it, providing custom coverage for your boat without the custom cover price. In fact, the seal that is made by applying heat to the heavy duty shrink wrap film is much tighter than any boat cover can provide.
Ask your local boatyard or storage facility if they offer this service to customers. Shrink wrap can help protect a boat while in storage better than traditional boat covers. Tarps and covers can fill with water or ice, which can result in leaks down onto the boat. Covers can also blow off in high winds or become damaged in severe storms. Shrink wrapping helps to keep sun, wind, rain, snow, hail, ice, and other weather off of your boat. When appropriately installed using a shrink wrap film dolly and other shrink wrap accessories, the tight seal will not be affected by the elements in any way. It also helps to retain your boats natural moisture, preventing dry outs that can result in fading and other exterior damage.
What Are the Negatives?
With so many positives associated with using heavy duty shrink wrap film, you might wonder why everyone doesn't use it to protect their boat during the off-season. There are a few disadvantages associated with using shrink wrap coverage, but not many. Perhaps the number one deterrent is the cost. When you invest in a boat cover you can use it over and over again, year after year to get your money's worth. When you use shrink wrap accessories to protect your boat, you need to pay the same fee again each year to have it shrink wrapped. The cost will depend on the size and shape of your boat, but a quality professional job could cost anywhere from a couple of hundred dollars on up to over a thousand.
You will also need to make sure that you perform all winterizing services, cleaning, maintenance, and repairs before getting your boat covered with heavy duty shrink wrap. GIve it time to dry out entirely on the inside to prevent excess moisture from being present during storage. Everything you do to protect a boat while in storage should be done with the idea of making it easier to get it back out on the water after the off-season and to prevent damage from occurring. Take out everything that is loose inside of your boat that might harbor moisture, including water toys, towels, life jackets, seat cushions, and other upholstered items. The more you can do to be proactive about moisture, the better.
Shrink Wrap Accessories for Professionals
If you own or operate a boatyard or other type of marine storage facility, consider purchasing a professional grade shrink wrap film dolly along with other shrink wrap accessories through Brownell Boat Stands. Anything you can do to make it easier to apply the heavy duty shrink wrap film to your customers' boats will help to streamline the process and ensure quality results. There are other things you can provide to your customers to protect a boat while in storage, including the boat stands, keel support, boat dollies and other items in our Brownell Boat Stand System. Stackable boat stands make it easy to provide proper support during cleaning, maintenance, repairs, and storage while providing a space-conscious option for stacking and putting them away when not in use.
For more information about Brownell equipment, including our Heavy Duty Shrink Wrap Dolly and other shrink wrap accessories, give us a call at 508-758-3671. We can help you place an order or find an authorized dealer near you.