High Quality TLC Boat Pads: A Guide to Winter Boat Ownership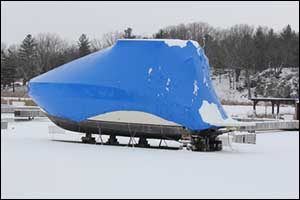 Owning a boat in the winter months can be a challenge. Not only do you need to take the time to winterize and properly store your vessel during the off-season, but you also have the frustration that comes with waiting for spring. There's nothing like that first day back out on the water after months of pining away for your sailboat. It's what boat owners and sailors dream of the most. However, there are things that you can do to help make the time pass that will all work toward getting your boat back on the water.
Just as you take your time to choose a boat stand system and boat lifting systems that will properly protect your boat when it is out of the water, you need to be picky about everything else. From the high quality TLC boat pads you use to protect the hull to the quality of the anodized foldable sailboat stands that will assist the keel stands with support. The more you can do before you put your boat "to bed" for the winter, the easier it will be to get her back out again when the weather clears.
Check on Your Boat in Storage
If you are a first-time boat owner, you need to know that it is perfectly normal to want to visit your sailboat in storage. In fact, it is encouraged. It's a good idea to make regular visits to check on your boat and make sure that snow is not accumulating on top of your boat if you are storing it outdoors. Even if you took the time and investment to shrink wrap your boat, the winterization process could be hindered if a lot of snow and ice accumulate without being removed.
If you live near where you stored your boat, take time to visit the boatyard or storage facility immediately after a snowfall or after heavy winds. Hopefully, you were able to choose a boat stand system that will provide you with stability, but your neighbors might not have been so diligent. The last thing you want is to have the sailboat next to you tip over in a winter storm and fall into your boat. While most storage yards do regular checks, it's still a good idea to visit your boat regularly and make sure that everything is in order and still standing.
Winterizing Your Boat
Before you put your boat away for the winter months, hopefully, you took the time to winterize it or paid a professional to do it for you. Whatever you decide, just make sure that the work gets done. Each boat will vary in what needs to be done, so if this is your first time, make sure to consult with the owner's manual or speak with a trusted boat mechanic. If your sailboat has a motor, be sure to read the manufacturer's recommendations on winterization for the engine as well.
Start the winterizing process by making lists. Create a checklist of everything that needs to be done to winterize your boat, from the use of boat lifting systems to get it out of the water to high quality TLC boat pads for extra protection. Make an inventory list of all the tools and equipment that you will need for winterizing and storage, from cleaning supplies to foldable sailboat stands and beyond. The more prepared you are to start the winterizing process – if you are doing it yourself – the faster and easier it will be to complete.
If you need help to choose a boat stand system, visit the Brownell Boat Stand website at www.boatstands.com for our Boat Stand Selector tool. It will tell you the type and number of boat stands required for your specific make and model of the sailboat.
Interior & Exterior Check-Up
After using proper boat lifting systems to get your boat out of the water and once you have your vessel secured on foldable sailboat stands, keel stands and high quality TLC boat pads, it's time to provide some care. This is the best time to go over the interior and exterior features of your sailboat to make sure that everything is in repair. Get the hull waxed before you put it back in the water and get the topsides waxed as well. All metals should be waxed, and your teak wood should be varnished. It is less expensive to maintain your boat than it is to repair it or make replacements. Take this opportunity to take care of as much as you can now while it is out of the water so you'll be ready to get back on the water in the spring.
The Brownell Boat Stand System
Since Brownell invented the boat stand, all of the products that we design and manufacture are made with the goal of making boat handling more efficient. This is just one of the many reasons why Brownell Boat Stands are known by professionals all around the world to be the best quality ever made. Visit our website to view our full list of products or give us a call at 1-508-758-3671 to find an authorized dealer near you.