Guide for Basic Maintenance and Boat Stand Use for Sailboats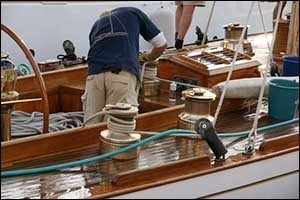 Regardless of the size or type of sailboat that you own, there are certain maintenance tasks that must be performed. Simple, routine services and repairs can be easier to take care of on your own than you might think. All you need is a little basic know-how and the right tools to ensure that you get the job done right. Sailboat stands and keel stands with a solid steel ACME threaded center rod, can be purchased at an authorized dealer for the Brownell Boat Stand System. To learn where to buy boat stands and other essential equipment for maintaining your sailboat, just give us a call at our Mattapoisett, Massachusetts location or use the Boat Stand Selector tool on our website.
Tip #1 – Your boat should be washed after every use. If you boat in freshwater, it should be rinsed after each outing and washed on a regular basis. If you boat in saltwater, make sure that you use fresh water to remove the salt residue after each and every outing to prevent damage.
Tip #2 – Only use cleaners that are made for the type of finish used on your sailboat. Using the wrong cleaners or soaps will strip the varnish and damage your boat.
Tip #3 – Removing your boat from the water, placing it on proper sailboat stands, and washing it in a designated area or on your own property, is the best way to clean your boat. Never use chemicals, soaps or other cleaners while your boat is still in the water.
Tip #4 – Use quality equipment for the care and transport of your sailboat, including Brownell brand sailboat stands and keel stands. Quality matters, from the anodized or traditional blue painted stands to the solid steel ACME threaded center rod.
Tip #5 – Be a list-maker. Create a list of all the scheduled maintenance that is recommended for sailboat ownership and a log of all repairs and replacements that you do on your boat.
Tip #6 – Ask for advice from experienced sailboat owners. You can learn a lot from someone who has gone before you with regard to ownership maintenance. Find out where to buy boat stands, good spots for sailboat storage, tips for rigging and much more, but make sure to verify the information before investing too much time and money into it.
Tip #7 – At the end of the season, make sure to remove all of the sails from the boat. Inspect them as you remove them, checking for minor or major damage. Check all of the seams and then scrub, rinse, and air dry them completely before putting them away. Make any repairs before washing and then fold or roll up your sails and then store them in a dry place to prevent mold and mildew from forming.
Tip #8 – Depending on where you store your boat, you will want to remove as much of the rigging as possible to preserve your lines. Left exposed to the sun and unused for weeks or months on end, they can degrade quickly. If you are storing your boat indoors atop sailboat stands and keel stands in a protected environment, you can leave more of the rigging on, as long as it's clean.
Tip #9 – Make sure it's all clean. All lines should be washed with fresh water and any rope that was used for "dirty" jobs should be scrubbed repeatedly until clean. All the lines to hang dry for at least a day to ensure that they have completely dried before stowing them away for the off-season. Perform any inspections on your lines at this time.
Tip #10 – Take extra care if storing outdoors. If you will be keeping your sailboat outdoors, make sure to remove sun covers and any other shades so they won't become damaged while not in-use. Use trusted equipment, such as Brownell sailboat stands and keel stands. Learn where to buy boat stands and other equipment that will work to protect your investment.
Take Some Time in the Galley
It doesn't matter how much work you put into the rest of your sailboat, if you leave any bit of a mess in the galley, you will have to deal with bugs when you come back. Even tiny bits of food or remnants of spills will attract bugs, especially if you are storing your boat in a tropical location. You will read a lot of tips about taking care of other areas on your boat, but it pays to take a little extra time to ensure that all leftover food is discarded and that everything is sanitized and wiped down completely at the end of season.
Even if everything looks clean, re-wash all pots, pans, plates, containers, cups and utensils to ensure that nothing remains. If you have any leftover food – even food in cans or sealed up in plastic – take it with you or discard it. It's not worth the possibility of attracting weevils, roaches or other pests that can be very difficult to get rid of once they take root. It is also a good idea to use a long-lasting pest control spray and completely spray down the galley once all of the food has been removed.
Professionals Choose Brownell Boatstands
If you are in the market for sailboat stands, make sure to check out the selection of top quality American-made stands available from Brownell. Solid steel ACME threaded center rod, anodized or traditional blue-painted keel stands and specialty stands are available for any size of sailboat or yacht. Give us a call at 508-758-3671 or use our online Boat Stand Selector to find the best solutions for your vessel. Our team can help you find where to buy boat stands in your area from an authorized dealer.