Get Ready to Set Sail: How to Prepare a Boat for the Season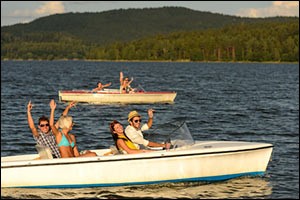 While it may still be the middle of winter, boat owners all over are busy making preparations for the return of boating season. Whether you go out on the local lake or head out to sea, boating is a fun and exciting activity that can involve the entire family. It is important to make sure that your vessel is ready for boating season. Some of the regular maintenance services you perform will be for safety purposes, however some are required by law. If you aren't sure about what you are required to do in your local area or for your particular type of boat, consult with an experienced boat mechanic.
Step One: Registration and Legal Requirements
While you may utilize boat dollies or a personal watercraft dolly to actually move your vessel around at the boat yard or at your own property, you need to also take care of your boat trailer that you use to haul your boat down to the water. Check the tires on the trailer and ensure that no damage has occurred in the off-season. Then make sure that your registration, license and decal for your boat and all equipment is current.
Step Two: Basic Inspection
While your boat is still dry docked and up on wedge stands for boats and other types of boat stands, perform an inspection on the hull and other areas of the boat that are typically down in the water to make sure that no new damage has occurred since the last time you checked. Make sure that the engine is in working condition and turn it on to check that the battery is charged. Inspect the navigation lights and any other electronics on the boat to make sure that everything is working as it should.
Step Three: Safety Equipment
The next step is to make sure that all life jackets and personal floatation devices are in good shape. If there are any tears or holes, replace them immediately. Check to see that life jackets still fit every member of the family and get new ones, if needed. Check the dates on your fire extinguishers, safety kit, emergency gear, radios, flares, first aid kit, emergency whistles, a manual bilge pump, GPS and other essential equipment.
Step Four: The Anchor
Don't overlook making an inspection of the anchor. Your anchor is an essential piece of boating equipment. It should weigh a pound for every foot in length of your boat and should always be secured tightly to the boat with a floating rope that will not sink. The boat also needs to be as long as the boat.
Step Five: Paddle
Whether you are out on a boat or a personal watercraft, it is a good idea to have some sort of emergency paddle on board in case the motor dies. You do not want to be at the mercy of water conditions and just sit there waiting for help. Check into telescoping paddles for personal watercraft and make sure to have good, solid paddles on board your boat.
Step Six: Equipment Check
All of the equipment that you use to transport, store and maintain your vessel should also be inspected at least once a year. Boat dollies, personal watercraft dolly, motorboat stands and wedge stands for boats with solid steel ACME threaded center rods, TLC boat pads and other essential gear should be checked thoroughly. Make sure that you have enough jack stands for your boat to properly protect it during the off-season or while performing maintenance work. Check the restriction on boat dollies and personal watercraft dolly equipment to make sure it is the right size for your vessel.
Trust Brownell Boat Stands
Since 1954, the Brownell name has been synonymous with quality and reliability. We are also known for our innovations and top notch customer service. We take a lot of pride in the products that we create, and to ensure quality, all of our products and components are made in house by skilled American craftsmen right here in the USA.
Brownell Boat Stands are known by professionals all over the world for being the best quality ever made. We only use American tubular steel, which has earned a reputation for being the most durable steel available. Compared to other types of steel, which can vary widely in quality and are more susceptible to rust, American tubular steel is by far the best. To find Brownell products at an authorized dealer near you, contact our office in Mattapoisett, Massachusetts by calling +1-508-758-3671.