Engine Handling Products: Take Care of Your Boat With Brownell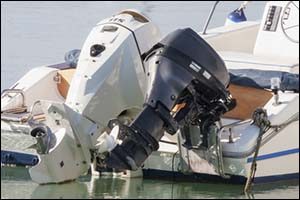 One of the most important parts of boat ownership is learning how to properly care for your boat, from using the best tools for storage and engine handling to proper maintenance and care. Preventive services are the best way to keep your motor boat in good, working order year-round. You want to make sure that everything is "ship-shape" so you'll be ready to get out on the water as soon as the conditions are good.
The Brownell Boat Stand System is the best way to take care of your vessel. Our full line of motor boat stands, pads and more, can all help you to safely and effectively store your boat when it is out of the water. Our trailers, trailer pads and chains, can help you to safely transport your boat to and from the water. Engine handling products, such as our line of Brownell engine racks for outboard motors and other types of engines, are perfect for helping you to keep everything cleaned and properly maintained.
Taking Care of Business: Outboard Motor Care
There are some basic things that you can do to help keep your outboard motor it tip-top shape. These tips will help you to prevent common issues that can happen to engines that aren't properly cared for after or before use. Whether you take your boat out every weekend or just get to get out on the water a couple of times each year, it is always a good idea to do these basic maintenance services every time you take your boat out of the water.
Engine Flush – Fresh and saltwater can cause damage to your engine if you don't flush it out properly after every single trip. Check to make sure that there is a good flow from the water pump to make sure that there isn't any debris stuck inside the outflow tube. If you notice that there is an issue, make sure to shut the engine down right away to prevent damage from occurring.
Carburetor Fuel – Another great tip is to disconnect the fuel line from the engine after you finish flushing it and allow the engine to burn up all the excess fuel inside of the carburetor. Shut the engine down completely and check it for any water or fuel leaks. Bring it to a mechanic if you notice anything off.
Use the Right Tools – Whenever you clean or maintenance your outboard motor, take advantage of Brownell engine racks and other engine handling products. The Brownell Boat Stand System is more than just motor boat stands or sailboat stands, but a complete and comprehensive system that helps you care for your vessel.
Clean Up – Now it's time to clean the entire engine by wiping it down. You should also spray it with an anti-corrosive product, such as Quick Lube or WD-40. Make sure that all of the moving parts are lubricated, including the carburetor valves, cables and shift. Once everything is wiped down and cared for, put a plastic cover or canvas over your engine until you are ready to go out on the water again.
You should also perform regular preventive maintenance checks of your vessel. For example, check the fuel line to make sure there aren't any spots that are worn or cracked. Check to make sure that the fittings for the fuel line are seated properly. Make sure that there aren't any leaks at the fittings for the fuel line or anywhere else along the line. Check for damage and corrosion in the fuel tanks and ensure that the fuel clamps are not corroded or rusted. Your tank vents should aspirate properly and you should also make regular checks to ensure that there isn't any water inside of the fuel tank.
Storing Your Boat: Motor Boat Stands
When your boat is out of the water, you need a safe place to store it. Depending on the size of your boat, you might just keep it up on a trailer, either at a boat yard or in your own storage at home. For safer keeping over longer periods of time, motor boat stands are your best bet. Using engine handling products and Brownell engine racks that are designed for your size and type of motor is also important. Check out the entire line of products in the Brownell Boat Stand System. There is a guide online to help you figure out what size, what type, and how many motor boat stands you will need to protect your vessel.
Contact Brownell Boat Stands by dialing 508-758-3671 to find an authorized dealer near you, or use our Boat Stand Selector on our website to help determine the best products for your boat.