Engine Handling Products: Maintenance Tips for Motor Boats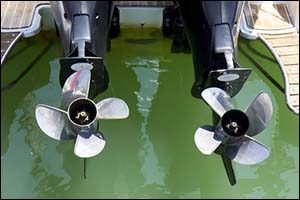 Whether you are new to owning a boat or have owned boats for years, it is a good idea to get yourself on a regular maintenance schedule to help protect your equipment and keep it running effectively and efficiently for many years to come. Working on your motor boat can either be done in the water or out of the water. Of course, there are some tasks which can only be done on dry land. Engine handling products, such as engine racks for marine engines, are vital to the success of your engine maintenance routine. Motor boat stands and learning where to buy boat stands in your area can be extremely beneficial in protecting your vessel when it is out of the water.
Understanding Outboard Motors
Improvements are made regularly to outboard motors, yet no matter how technologically advanced your engine might be, it still requires regular servicing and maintenance to keep running properly. Saltwater and fresh water engines require regular maintenance. Top brands, such as Honda, Yamaha, Evinrude, and Suzuki will usually require less maintenance than other brands and offer some pretty amazing power-to-weight ratios, making it easier for you to handle and care for than some other weighty brands and options. Either way, having engine handling products available, such as a small outboard rack or an outboard storage rack from Brownell boat stands, can make it even easier.
There are a variety of sizes found in outboard engines, which is why there are so many different sizes and types of engine racks for marine engines. Horsepower ratings can range between 25 and 550 or more, powering a variety of different vessels. Even if you are fortunate enough to have a low-maintenance motor, it is still important to keep up with servicing and have an understanding of how it works and what is needed to keep it in great shape for many years to come.
Some of the parts that you need to know on your engine include:
The Cowl – This is the hood that is used to protect all of the components and powerheads of your outboard motor from immersion. Water is kept out through the use of compression latches and a rubberized gasket that serves as a seal around the base of the hood. Part of your maintenance routine should be checking the latches and the gasket to make sure they are working properly.
The Powerhead – This is the actual engine and all of the components that power your outboard motor. It includes the alternator, starter, electronic control module, fuel injection system, cable ports and, depending on the style that you have, the oil injection system. Most of the outboard motors designed for use in saltwater will have either in-line four, V-6 or V-8 cylinder configurations, however, most will simply be a four-stroke engine. Two-stroke engines work on oil injection, while four-stroke engines require oil. Make sure you know how to provide maintenance for your engine based on the manufacturer's recommendations via the owner's manual.
The Throttle and Shift – This is where having an understanding of your outboard motor and how it works will come in handy. Some of the newer motors will have what is known as a "fly by wire" digital throttle and shift system, while everything else will depend upon mechanical cables that go from the helm to the powerhead. If you have the traditional set-up, you will need to inspect the cables regularly and lubricate them as needed. Review the manufacturer's recommendations for all of the procedures that must be performed to protect and maintain the throttle and shift. If there are issues, you may need to bring in a technician to inspect and replace any cables that have worn out over time.
The Fuel System – Another essential part of your outboard engine is the fuel system. Before you do anything with your fuel system, make sure to know what type you've got. Newer engines will have electronic fuel injection (EFI), which makes them easier to start and provides better fuel efficiency. Older engines may rely on carburetors that require a lot of warm-up time and offer less in the way of efficiency. Learn how to properly fill-up your fuel tank, what type of gasoline is required for your engine, how to prevent water from entering your fuel system. Stabilizing additives, filter changes and other tools can be used to keep your fuel system running effectively and efficiently for many years.
Where to Buy Boat Stands
If you are interested in learning more about motor boat stands designed for your specific make, model, and size of the boat, visit the Brownell boat stands website and use our Boat Stand Selector tool. We also feature a wide range of engine handling products and engine racks for marine engines, along with boat lifting system, protective TLC pads, and a whole lot more. If you trailer your boat, we also provide trailer pads and components. Give us a call at 508-758-3671 to find an authorized dealer near you or to learn more about the Brownell Boat Stand System.