Dry Rack Storage and the Nesting Brownell Boat Stand System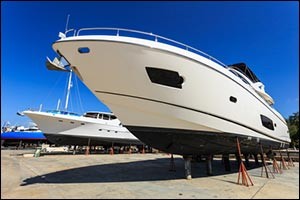 An alternative to waterfront marinas for boat storage is dry boat racks systems. Many boat storage yards are using stackable boat stands and other types of racks and stands that are part of the Brownell Boat Stand System. In some coastal areas, the once popular waterfront marinas are all but disappearing, due to developments for condos and vacation homes. However, boat owners still need a place to keep their boats when they are not in use during the winter or when they are gone for the season.
If you aren't sure where to buy boat stands or are looking for a yard that uses boat racks made by Brownell, the industry leader in boat stands, it pays to visit the website or call to find out about authorized dealers. If you want to ensure that your boat is safely stored on stackable boat stands as part of the overall Brownell Boat Stand System, you can purchase your own and find a storage yard that allows you to bring in your own equipment. Think about it as investing in your boat, just as you would for any other type of maintenance and servicing.
A Long, Trusted History
Dry docking boats isn't exactly something new. Many boat owners used this method beginning in the 1950s, when private boat ownership began to increase. Marinas that were tight on space started using boat racks to vertically stack lighter boats for storage. Many of the products that were used at that time were made out of wood and other inferior materials. However, that all changed in 1954 when David "Fred" Brownell revolutionized the way that boats were stored out of the water with the invention of the Brownell Boat Stand. Today, the Brownell Boat Stand System is used all over the world and has been hailed as the safest, fastest and most reliable method to dry store boats.
Our stackable boat stands and boat racks are designed to store more boats per square foot, allowing boat storage yards to maximize the amount of space available and, as a result, increase revenue. The unique stacking method of the Brownell Boat Stand System allows boats to be stored safely and securely without taking up a lot of space. Today you can see our boat racks and stackable boat stands at marinas all over the world, painted in our signature blue and orange. When not in use, the stackable feature allows our boat racks and stands to be neatly stored away until they are needed again.
Benefits of Dry Dock Storage
There are many advantages to choosing to store your vessel at a dry dock storage in the off season or when you won't be using it for an extended period of time. They are easy to use and easy to access. Just call ahead to the boat storage yard and let them know that you will be coming in to get your boat out of storage. They can get it down from the boat racks for you and have it ready to go when you arrive. You can also save money by not having to haul your boat far away from the water. Many storage yards are part of or near the existing marinas along the shore, making it quick and easy to get your boat back into the water.
Maintenance is reduced by the use of dry storage on stackable boat stands. The boat isn't sitting in the water 365 days out of the year, so the marine growth and corrosion are reduced significantly. In fact, while your boat is in storage on the boat racks, you can pay to have it painted or maintained. Many boat owners trust the Brownell Boat Stand System for routine maintenance, repairs and other extensive work when out of the water. When you look where to buy boat stands, make sure you provide details about the size and type of boat that you have, as well as the purpose of bringing the vessel out of the water.
The Brownell Boat Stand System
If you are interested in learning more about the Brownell Boat Stand System or want to know where to buy boat stands and boat racks for dry docking your boat, call our office in Mattapoisett, Massachusetts by dialing +1-508-758-3671. Our customer service agents can help you find a dealer near you that deals with stackable boat stands for motor boats, sailboats, pontoon boats and personal watercraft. Call today and make sure to get the very best in boat racks and stands to protect your vessel.