DIY Boat Maintenance: Use High Quality TLC Boat Pads & Stands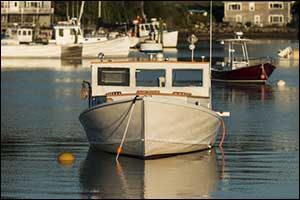 One of the best ways to reduce costs associated with boat ownership is to take on some of the maintenance tasks yourself. Never try to do anything that is outside the scope of your abilities, but don't be afraid to ask questions, learn, and try new things concerning maintaining your vessel. Whether that includes painting the bottom of your boat, taking charge of winterizing services, or just giving your boat a good clean both inside and out, make sure to take care whenever it is out of the water. Brownell boat stands, which include a wide variety of sailboat and motorboat stands, high quality TLC boat pads, engine handling products and more, can make DIY tasks a lot easier and provide the protection you require whenever your boat is on dry land.
Dealing With the Trailer
One of the most difficult aspects of doing your own DIY boat work is dealing with the trailer and getting your boat into a safe position to get the job done. While you might be expert at getting the boat onto the trailer and off the trailer whenever you want to take the boat out on the water, you might not have much experience using sailboat or motorboat stands, depending on your needs. While you could do some of the maintenance while the boat is still on the trailer and protected with high quality TLC boat pads, jobs like painting the bottom, or maintaining the hull in any way, can become difficult if you don't have complete access.
While some boats are smaller and easier to handle, there are also boats that are much larger and can be difficult to maneuver on dry land. For the most part, if your vessel is between 10-25 feet in length, you should be able to quickly get it off the trailer and onto the right type of Brownell boat stands. Not sure what kind of stands and engine handling products you need to maintain and care for your boat correctly? Visit www.boatstands.com and use the Boat Stand Selector tool to find out the right type and number of boat stands, keel support, and accessories you need to adequately care for your boat while it is out of the water. These stands can be used for maintenance, servicing, cleaning, and even dry dock storage during the off-season, so it is essential to purchase the right stands for your vessel.
What You Need to Know
Some boat owners can get away with keeping their sailboat or motorboat up on the trailer during the off-season. However, that could mean potential damage to the hull depending on the size and type of boat that you own, as well as the type of trailer that you use. For example, a roller trailer can create possible stress cracks at the pressure points or cause small indentations to form in the hull. The positioning of the rollers is the problem. While this is okay for temporary use or short distances, it is not meant for long-term or seasonal storage solutions. Unlike a bunk trailer, which sits on the stringer to provide better support and protection, a roller trailer straddles the stringer.
Brownell boat stands are not as expensive as you might think. They are not so costly that boat owners should create homemade solutions for the support of their vessel on dry land. Over the years we have seen some creative solutions, but we have also seen some disasters. Do not use cinder blocks to support the weight of your boat. Brownell has a wide range of keel support products, including keel stands, benches, and blocks. Our keel stands and benches have been independently evaluated and rated to 20,000 pounds, with a minimum of two being used for proper balance and support. If you are new to sailboat and motorboat stands, visit www.boatstands.com for a complete guide to the appropriate use and placement for best results.
Support and Balance
A lot of people misunderstand the purpose of boat stands and keel support. The keel support is what takes on the weight of your vessel, which is why it is important to avoid using things like cinder blocks or old wood from your backyard. The weight should be support by our top quality wood blocks, which come in 6×6, 8×8, and 12×12 inch options that are 22-inches in length or our new galvanized steel blocks, which are longer-lasting and more durable. Each tube is 8×8 inches and 20-inches in length. These blocks have been load tested to 40,000 pounds. Our keel stands and benches come in hot dip galvanized or our traditional blue painted for extra long-lasting good looks, strength, and durability. Choose from v-top or flat-top varieties, depending on the needs of your vessel.
Brownell boat stands are an important part of the Brownell Boat Stand System. However, they are not used to support the weight of your vessel, but to provide balance and keep the boat level. Our system includes high quality TLC boat pads, which are designed to protect your hull during maintenance or storage. We also have a wide range of other essential products, including boat dollies, engine handling products, staging ladders, trailering components, and shrink wrap accessories. Our products are designed to help save you time and labor, making it easier to perform DIY maintenance and storage necessary to extend the life of your boat. Investing in quality boat stands and pads can protect your boat whenever it is out of the water. Brownell boat stands make it easier to provide this protection with top quality products, tools, and advice.
To learn more about the entire Brownell line of marine products and equipment, visit our website at www.boatstands.com or contact our team at 1-508-758-3671. We can answer any questions that you might have about our sailboat and motorboat stands, personal watercraft equipment, and high quality TLC boat pads or we can provide you with information about an authorized dealer near you.