Different Types of Stackable Boat Stands to Use for Sailboats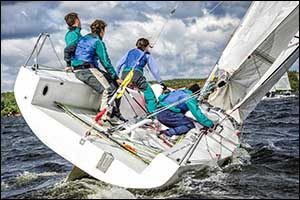 There are many different types and sizes of sailboats, which stands to reason that there are also many different types and sizes of stackable boat stands that can be used for storage, repairs, and maintenance while out of the water. Our selection of solid steel sailboat stands can be in our traditional painted blue finish, or the popular hot dip galvanized finish for long-lasting durability. Adjustable sailboat stands come in two options, including the V-top and flat-top, depending on your needs.
Our boat stand selector tool can help you pick the best options based on the length, beam, and draft of your vessel. The Brownell Boat Stand System is used as a balancing device, with the weight of the boat resting on its keel and supported by a variety of stands, staging ladders, benches, or blocks. Whether you require a yacht stand or just a small craft dolly to protect your sailboat while out of the water, we have all of the tools and equipment necessary to get the job done right.
Boat Stands
The Brownell yacht stand and other stackable boat stands are made using only top quality American steel. In fact, all of our products from boat dollies to staging ladders are made right here in the USA by skilled American craftsmen. American steel is a superior material, compared to other types of metal commonly used for the manufacture of marine industry boat stands and equipment. All of our boat stands have been independently tested and are certified to have a safe working load of 20,000 pounds or 9,100 kilograms. Our boat stand selector tool helps customers to choose the right size and type of stands to support their vessel, as well as the number of stands required to provide safe balance and stability while out of the water.
Our sailboat and yacht stand selection features adjustable options that range from 24-36 inches on up to 79-96 inches in both the V-top and flat-top styles. All can be used with either the standard pad or upgrade to our popular TLC pads for extra protection. The Brownell Boat Stand System is designed to support the weight of your sailboat with keel support and provide balance while out of the water with our stackable boat stands and other essential equipment. You can use our boat stand selector or contact one of our representatives to find out the best configuration, type, size, and the number of boat stands that would be best for your particular kind of vessel. Our team can also help you to find an authorized dealer near you.
Staging Ladders
In addition to our stackable boat stands and yacht stand options, we also manufacture quality staging ladders to provide a stable working platform for repairs, maintenance, and other work that must be done out of the water. All of our Brownell staging ladders are designed to be folded flat for compact and convenient storage when not in use. They are purchased and used by individual boat owners, as well as professional marine service providers, due to their long-lasting, rugged tubular American steel construction. Choose from our traditional painted blue or hot dip galvanized finish, depending on your needs.
Choose from four sizes, ranging from 72-inches up to 144-inches. The Brownell name and reputation carries on from our top-selling boat stands to all of the products that we design, manufacture, and sell from our Southeastern Massachusetts facility. We are proud to have earned a solid reputation within the marine industry. Our Brownell staging ladders and other products are all designed to be used with the Brownell Boat Stand System to protect and support your vessel. Our products are known and used by professionals all over the world as being the best quality boat stands and marine equipment ever made.
Looking for a Quality Yacht Stand System?
Consider Brownell for all of your boat stand, keel support, yacht stand, staging ladders, and other essential equipment needs. We offer a wide range of products, including motorboat stands, stackable boat stands, TLC boat pads, keel support, boat dollies, boat racks, parts and accessories, boat lifting systems, engine handling products, shrink wrap accessories, trailer components, and much more. Give us a call at 508-758-3671 or browse our website to watch demonstration videos, download brochures, or find out where to buy our products at an authorized dealer near you.