Create a Small Boat Trailer Kit: Trailer Wedge Stands & Pads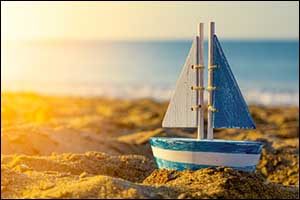 If you have a small boat, then you know that the options can seem somewhat limited concerning equipment that will work for trailering and maintaining your vessel. You probably see a lot of tips that say you can just use basic boat dollies or not to worry about using adjustable trailer pads for your small boat. However, the truth is that smaller vessels need the same level of TLC that larger vessels do. That's why Brownell, the company behind the world-famous Brownell Boat Stand System, has a full line of trailer wedge stands and pads that you can use to create your own small boat trailer kit. Choose from a range of sizes for pads, stands, support, and trailer components that you can use to your advantage.
Build a Custom Cradle
One of the coolest things that you can do with the Brownell Wedge Stand (W2) is to use it to create your own cradle on a trailer that is custom sized for your small vessel. Made in the USA with quality American steel, the Brownell wedge stands are designed to be mounted to a cross member, bolted to a trailer frame, or fastened to a wooden beam. You can use this to create a custom cradle that will protect your boat whenever you transport it out of the water. Consider the Brownell Wedge Stand (W2) to be one of the best items in your small boat trailer kit. Similar to our other adjustable trailer pads, it is protected with the traditional painted blue finish to provide long-lasting durability.
Choose from two usable positions through the use of an ACME steel threaded rod, ranging from 15-inches to 27-inches, depending on your needs. Similar to our Brownell boat stands and keel support, our trailer wedge stands and pads are all made from top quality materials. We are proud to have earned a solid reputation in the marine industry. Our products are used by individual boat owners and professionals all over the world. We provide the same attention to detail in our boat dollies, support, wedges, pads, and other products that we do to all of the quality items used in our world-famous Brownell Boat Stand System.
Why Choose Adjustable Trailer Pads
While you will see a lot of boat owners using marine or indoor/outdoor carpet on their boat dollies and trailers, there are some clear advantages to using Brownell TLC boat pads instead. As the name implies, our TLC trailer wedge stands and pads are designed to provide your vessel with the "tender loving care" that it needs to protect its finish. Our adjustable trailer pads should be a part of any small boat trailer kit and storage system. Designed to provide drainage to eliminate moisture from affecting the hull, our TLC pads can be mounted to any type of Brownell Boat Stand, adjustable trailer, boat dollies, and even our W2 wedge stand, which can be used to create a custom cradle for your vessel.
The TPE surface of our TLC boat pads is designed to protect the delicate finish of your boat. This includes finishes that are made from epoxy coatings, gel coatings, and even fine-crafted wooden vessels. The fasteners that come with our adjustable trailer pads are included. The pads can be used to replace any of the standard plywood pads that are used with our Brownell boat stands, trailer wedge stands and pads. It is possible to just order a TLC boat pad or to purchase a complete TLC top in 16-inch and 23-inch sizes. Adjustable trailer pads are available in three sizes, including the 16-inch, 23-inch, and 27-inch options. The TLC orange top version is available in the 27-inch size.
Made in the USA
Once upon a time, stating that something was made right here in the USA used to mean something to consumers. Today, that American pride and quality craftsmanship are coming back into style. For over 50 years, Brownell Boat Stands has strived to provide reliable, durable, and dependable results to our customers, offering a wide range of sizes for boat stands, keel support, boat dollies, and of course, our famous TLC boat pads. If you are putting together a small boat trailer kit and would like to learn more about how you can use our world-famous products that are made right here in the USA with high-quality American steel, give us a call at 508-758-3671. Our team can answer any questions that you might have about how to use our trailer wedge stands and pads to your advantage or can help you locate an authorized dealer near you.