Choosing the Right Keel Support and Boat Stands for Sailboats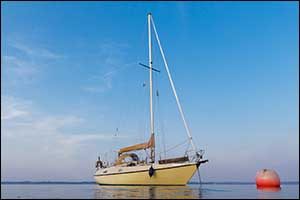 Taking your sailboat out of the water and putting it into dry storage or hauling it to the yard for maintenance and repairs can be risky if you don't know what you are doing. Painted or galvanized boat stands are used to provide balance to boats to protect them from damage while out of the water, but keel stands and benches are the critical elements of the Brownell Boat Stand System. The more you can learn about the different types of boat stands for sailboats and the importance of proper keel support and what it means for your vessel, the easier it will be to minimize that risk. Take time to learn about the unique needs of your sailboat to help avoid unexpected damage that can occur during drydocking operations.
The Responsibilities of Boat Ownership
Working with a professional boat yard does not release you, the boat owner, from responsibility concerning blocking and supporting your boat on dry land. Even if the yard offers this service, you need to know how to properly block your boat and should share this information with the storage facility. This will help to protect your boat from accidental damage caused by mishandling of your vessel. Create a diagram and instructions for yourself so you can remember from season to season where the foldable sailboat stands, keel stands and benches need to go for optimal support and stability. Make a copy for the boat yard and share it with them when you bring your sailboat in for storage.
So how do you find out the best options to use with keel support and boat stands for sailboats? You can start by checking out your owner's manual. If you have misplaced it or never received one, try contacting the manufacturer or visit their website. If you still cannot get anything in writing from the manufacturing company, try using the Boat Stand Selector tool on the Brownell website. This is a generic tool that can be used to determine the appropriate amount of painted or galvanized boat stands, as well as the size and number of keel stands and benches required to protect your boat on dry land. We also have videos, diagrams, and written information that can help you to make the best choice for your vessel.
The Rule of Thumb for Blocks and Support
The marine industry rule is that you should have one keel block or stand for every ten feet of boat, with a minimum of three keel stands and benches for each vessel. Keel stands and blocking should be used along the center line of the boat to rest the weight. Make sure to check wooden blocks before use for any rotting or splitting. Brownell also carries a line of galvanized blocks that can be used for longer-lasting, even more durable support. It is a good idea to inspect all boat stands and keel blocks before using each season. When it comes to boat stands, a minimum of five should be used for sailboat storage, plus another set of two for every 10 feet if you have a longer vessel.
When you visit our website, just put in the information about your sailboat and you will receive a suggestion for the type and number of foldable sailboat stands, keel stands and benches required to support your boat. We also have V-stand galvanized boat stands for fin keel construction and bow-heavy or stern-heavy sailboats. Make sure to remove masts whenever your boats are on sailboat stands to prevent potential damage from winds. If you must leave the mast on, be sure to use additional stands for extra stability in windy conditions. Replace any boat stands that appear to be damaged or badly rusted and ensure that all adjustable screws are kept greased. If you are storing your boat for long periods of time, take time to visit the boat yard and check your vessel for safety and security.
Other Ways to Protect Your Sailboat
In addition to using Brownell boat stands for sailboats and the proper keel stands and benches for support, there are other things that you can do to further protect your sailboat when it is on dry land. Never allow anyone who is not qualified or unauthorized to adjust or move your boat stands or keel support when in use. Always use keel stands and benches along the center line to support the weight of your vessel. Suspending your boat in mid-air without the proper blocks and support. Do not tie anything to your boat stands, including canvas tops or covers. Never modify your Brownell painted or galvanized boat stands to "make them work" with your vessel. It is better to get the right equipment for the best results.
Boat stands should not be used to perform jobs that they were not designed and built to provide. Choose a space where the ground is firm and stable for storage or place quality plywood underneath the stands if the ground is soft. Never place keel blocks on top of the boat stands or use blocks underneath the legs of your boat stands to increase the height. If you need adjustable height foldable sailboat stands, keel stands and benches, visit the Brownell website to see our full line of options. Stacking objects on top of or underneath boat stands can lead to serious damage to your vessel.
The Brownell Boat Stand System
If you would like more information about our top quality keel support and boat stands for sailboats and motorboats, visit our website at www.boatstands.com. Brownell is proud to have earned a solid reputation in the marine industry with professional service providers, builders, sales experts, and boat owners alike. Find an authorized dealer near you by visiting our website or by calling our team at 508-758-3671.